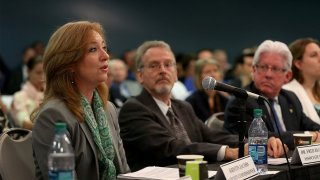 Florida state Rep. Kristin Jacobs, a Broward County Democrat who pushed environmental causes, died Saturday of colon cancer. She was 60.
She spent most of the recently completed legislative session working from her hospital bed, but she did return to Tallahassee last month for passage of a bill named in her honor banning the importation of shark fins to the state.
Before being elected to the state House in 2014, she served 16 years on the Broward County Commission, according to the South Florida Sun Sentinel.
"Never without a smile on her face, even as she battled cancer, we all know her to have been a tireless advocate for Florida's environment, wildlife and families," House Speaker Jose Oliva said Saturday in a statement. "She served her constituents with honor, distinction and loyalty and will be remembered for doing a great job by all who knew her."
Stay informed about local news and weather during the hurricane season. Get the NBC 6 South Florida app for iOS or Android and pick your alerts.
Several other Florida Democratic leaders offered statements on Saturday mourning Jacobs' loss, including Representative Debbie Wasserman Schultz.
"My heart broke when I learned of the passing of my dear friend, State Rep. Kristin Jacobs. Kristin was the most genuine, decent, caring, and effervescent person," Wasserman Shultz wrote.
"She was a groundbreaking environmental leader whose sheer will and warm, engaging personality turned adversaries into friends. She was smart and tough and stood up for her beliefs, always backing them with facts and data."
Caucus leader Kionne L. McGhee said, "Kristin was a fighter. The courage and strength she showed was an inspiration. She left a positive mark on our state through her tireless environmental advocacy. Any time I visit one of Florida's springs or other natural places, I will think of her. We all cared for her deeply and she will be missed."
Deputy Leader Representative Barbara Watson added, "Kristin Jacobs has clearly made Florida a better and safer place to live and play. Kristin truly left her legislative impact on Florida. She will be missed."
Copyright AP - Associated Press