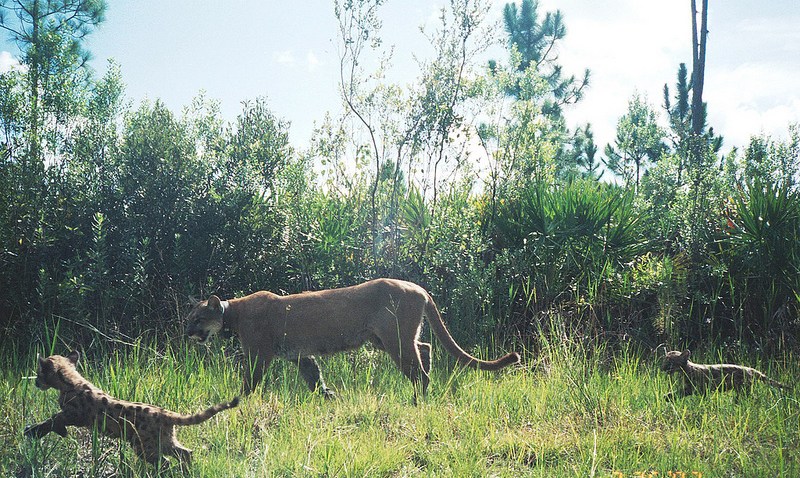 A 12-year-old Florida panther named Mirasol will go on exhibit in December at the Palm Beach Zoo.
The panther — called "Mira" — has been staying in a required quarantine since her arrival at the West Palm Beach zoo in October.
Before that, Mira lived at the South Florida Wildlife rehabilitation Center, which closed after its founder was diagnosed with a terminal illness. He contacted the Florida Fish and Wildlife Conservation Commission, which sought placement of the animals living at his shelter.
"Mira's arrival is so exciting for us, because she serves as a symbol of the vanishing South Florida ecosystem," said Jan Steele, the zoo's general curator. "We hope that by giving our guests the chance to see her, as an animal that is native to our own region, we will increase awareness of the plight of the Florida panthers in the wild."
Zookeepers say Mira is very affectionate and is doing quite well considering her age. According to the veterinary staff, she was diagnosed with lordosis, which is a curvature of the spine. The condition makes her less flexible, but the staff is working to help her build muscle and increase flexibility.
In addition to announcing the new panther exhibit, the zoo is changing its name to the Palm Beach Zoo and Conservation Society. The name was approved by the Zoological Society of the Palm Beaches Board of Directors in September.
Officials say the name change reflects the zoo's mission of inspiring people to act on behalf of wildlife and the natural world and to focus on the challenge of protecting species from the threat of extinction.
Zoo president and CEO Andrew Aiken said the facility is recognized as a leader in conservation and endangered species survival.
"If we don't figure out ways to share the planet sustainably with other species, they will be gone. They are no match for us," Aiken said. "It's not somebody else's problem — the challenge of preventing species' extinction belongs to all of us."
Copyright AP - Associated Press