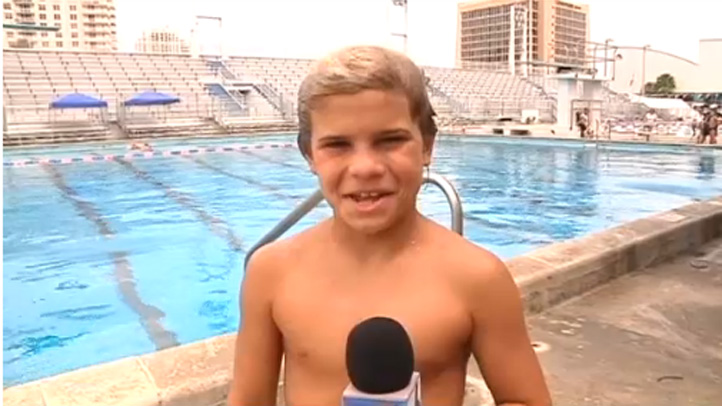 Pine Crest junior diver Kevin Mendez of Fort Lauderdale is one of 24 divers chosen to represent Team USA at this year's Junior Pan American Championships in Arizona.
Mendez, who turned 10-years-old last July, will be competing as an individual in the 1-meter and 3-meter springboard, and the 5-meter platform for the 11-and-under category.
"This is my first year going to the Pan American Games, and it's truly an honor to be representing the United States," Mendez said.

Mendez qualified for the team based on his results at this year's Junior Nationals where he won two USA Diving National titles in the 11-and-under boys platform and 1-meter springboard diving events. Earlier this year, he also scored big at the Junior East Nationals where he won every national event as a 9-year-old.
Janet Gabriel, coach at the Pine Crest Diving Club, has been training Mendez for the past year and a half and says when Mendez joined the Pine Crest School's diving team he was already a national champion.
"Kevin came with a real strong background in developmental diving. When he joined Pine Crest Diving, he went on to the U.S.A Diving's Junior Championships," Gabriel said. "He medaled and placed in the finals as an 8-year-old. His achievements speak to his personality that he has excelled so early in his life."
Mendez's father, who hails from Manizales, Colombia, said his son's love for diving was evident at the age of 3 when he asked his mother to put him on a springboard after watching the Plantation dive team practicing at their local pool.
"He took his first dive at the age of 3 under the direction of Coach Paul Breitfeller and he has not stopped since," said Kevin Mendez Sr.
"This whole journey has been a learning process for all of us," mother Kellie Mosley-Mendez said. "We didn't know anything about diving, and both Paul Breitfeller and Jennifer Floyd were instrumental during his first 5-years of Kevin's development.
In preparation for the Junior Pan American games, Mendez and Coach Gabriel are putting in some intense training times.
"Kevin is currently training as much as a college student. He's very dedicated and committed in that sense," Gabriel said. "Kevin has worked really hard for the chance to go to the Junior Pan Ams, and it will be exciting to see him make his international debut down in Tucson."
The Junior Pan American Games is one of the most competitive of all the other competitions because finalist and top ranking divers go on to present their country at all national and international diving meets.
The Junior Pan American Games are held every other year at various locations in the Western Hemisphere. This year they are taking place for the first time since 2005 in the United States. At least 150 divers from 10 different countries will have the chance to compete for gold at the Hillenbrand Aquatic Center on the University of Arizona campus in Tucson, from Sept. 26-29.