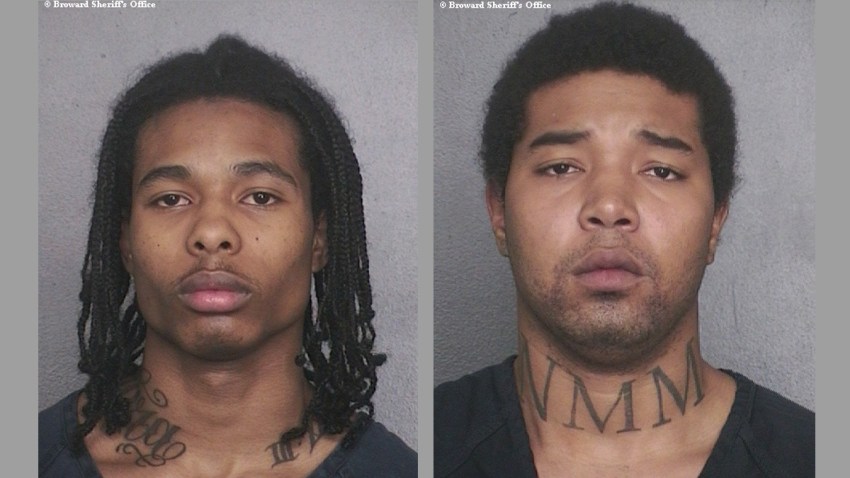 Four were arrested on charges of armed burglary at the home of former Miami Dolphins player James McKnight early Saturday morning, according to the Broward Sheriff's office.
Deputies were called to the scene at 11:12 p.m. Friday after a residential alarm went off at the home in the Landmark Ranch Estates in Southwest Ranches, the BSO said. The area was secured, but officials returned about 40 minutes later after reports of a suspicious vehicle, officials said.
When deputies arrived, they saw a red Dodge Charger leaving the scene and stopped it, BSO said. The driver, 19-year-old Michael Campblin, and a 16-year-old passenger could not explain why they were in the area, deputies said. After further investigation, officers found burglary tools on and around the passenger, including gloves, screw drivers, a flashlight, a small saw and a t-shirt, according to officials. Later on, a 9mm pistol was found under the driver's seat, BSO said.
When the two were separated, Campblin admitted he and the passenger were acting as look outs for two other suspects that had broken into the home, deputies said.
After setting up a perimeter that included K-9 and helicopter units, deputies saw a window had been broken at the home that the alarm came from earlier, BSO said. The two other suspects, 20-year-old Christopher Diaz and a 17-year-old were found in a fenced yard behind another home, but they did not comply with officials until one of them was bitten on the arm by a K-9 officer, deputies said.
Campblin was charged with armed burglary and Diaz was charged with armed burglary and resisting an officer without violence, according to their arrest forms. BSO officials said the suspects have burglarized McKnight's house in the past.
Camplin and Diaz were due in Broward bond court Sunday.
More Local Stories: