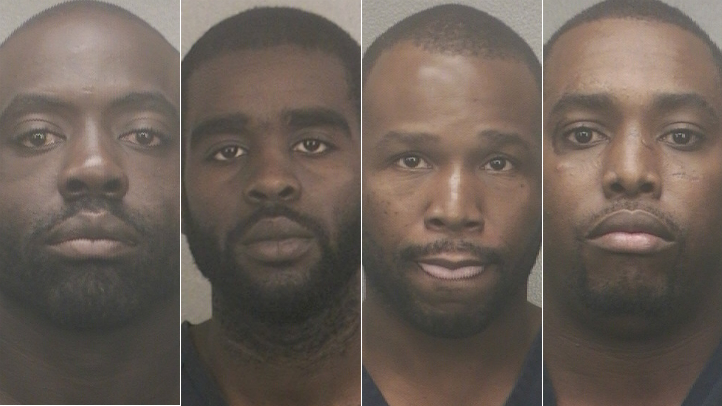 The FBI on Thursday identified a group of robbery suspects accused of leading police on a pursuit across Broward and Miami-Dade counties.

Wednesday's police chase began after a Coral Springs bank was robbed at gunpoint of $20,651 and ended when the suspects' Dodge Charger crashed and came to a rest on the Gratigny Parkway in Miami-Dade, according to Special Agent Michael Leverock, a spokesman for the FBI in Miami.

The three suspects in the Dodge stepped out of the car and tried running away, but they were grabbed in an instant by police, officials said. They are Carlos Jenkins, 24, and Gregory Richardson, 34, both of Opa Locka, and Edward Rogers, 40, of Miami Gardens, Leverock said.

A fourth suspect, Quinton Johnson, 29, of Miami, later was taken into custody, the FBI said.

Johnson, who owns the Dodge, one of two getaway vehicles used after the robbery, reported his car stolen about 15 minutes after the police chase ended, a federal complaint said.

Johnson was arrested when Richardson told investigators that Johnson had helped plan the robbery the day before the heist, the complaint said.

According to the complaint, Rogers and Richardson entered the Coral Springs SunTrust at 9501 Wiles Road and robbed it. Richardson, who wore a blue bandana to cover his face, jumped a counter and demanded money, the complaint said.
Deputy Injured, Suspect Shot on I-95 in South Florida
Rogers also pointed a gun at a customer's head and demanded a bank deposit bag that the customer was holding, the complaint said.

Police started searching for a dark-colored Nissan Sentra that witnesses said the robbers had fled in, the complaint said. Police soon after found the Sentra abandoned, but a witness described the Dodge, the second getaway vehicle used by the robbers, the complaint said. The Dodge was driven by Jenkins, the complaint said.

As the Dodge headed southbound, police from Coral Springs, Miami-Dade, Hialeah, Miramar, Miami Gardens and Opa-locka, as well as the Broward Sheriff's Office, participated in the pursuit, Leverock said.

Thursday, all four suspects remained in federal custody, facing federal charges, Leverock said. Additionally, the FBI was checking whether the suspects were involved in other South Florida bank robberies, Leverock said.

Miami Police Search For Suspect in Deadly Halloween Fight