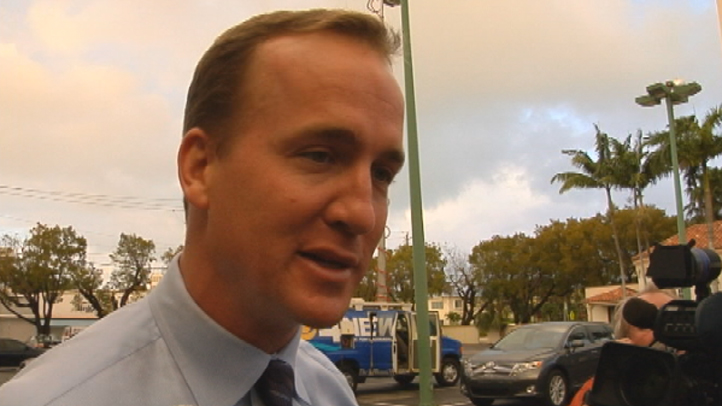 Peyton Manning's Wednesday release from the Indianapolis Colts has Miami Dolphins fans hoping for a new addition.

Fans are desperate for the future Hall of Famer to take over the team.

"Well, we were just talking about how boring the Dolphins have been in the last few years and how Peyton Manning would bring excitement back to Dolphins football if we can get him," said fan Rick Yabor, who was overheard talking about the possibility at lunch at the Titanic Brewery in Coral Gables.

Manning is a four-time MVP and a Super Bowl champion, but is coming off a devastating injury and is at the tail end of his career.

"It is worth a gamble," said fan John Laughlin, who was also discussing Manning during his lunch break. "We need anything we can get for the Dolphins at this point."

Desmond Howard, a Heisman trophy winner and analyst for ESPN, said that despite his injuries, a decision from Manning to play for Miami would be a good thing for fans.

"I think the initial buzz would be through the roof because of what he's meant to the NFL," Howard said. "But he is damaged goods and no one knows how damaged at this point. But I think for the casual fan, this is great. Better than anything we've had since Dan Marino."
Marino attended the Reid and Fiorentino Celebrity Golf Classic Thursday and is good friends with Manning. He told NBC Miami that he'd try to recruit him to play for the Magic City if he could.

"I think there is a good chance that could happen," Marino said.

Pierre Garcon, one of Manning's favorite receivers with the Colts, wasn't as sure as Marino.

"I have no idea," Garcon said. "I couldn't tell you where he is going at all."

But there is no doubt that his free agent status has caused a stir.

"From a marketing standpoint, from a ticket sales standpoint, from a community excitement standpoint, there is no option better than Peyton Manning," said Omar Kelly, who covers the Dolphins for the South Florida Sun Sentinel.
Kelly also told NBC Miami that the Dolphins sold 6,000 extra season tickets after they signed Daunte Culpepper to the team and that adding Manning to the roster should add at least twice that amount.

The wait has begun.

"I have no idea who wants me, what team wants me," Manning, who has a home here, said to media Wednesday, after he was driven through Miami following his arrival at Opa-Locka Executive Airport.