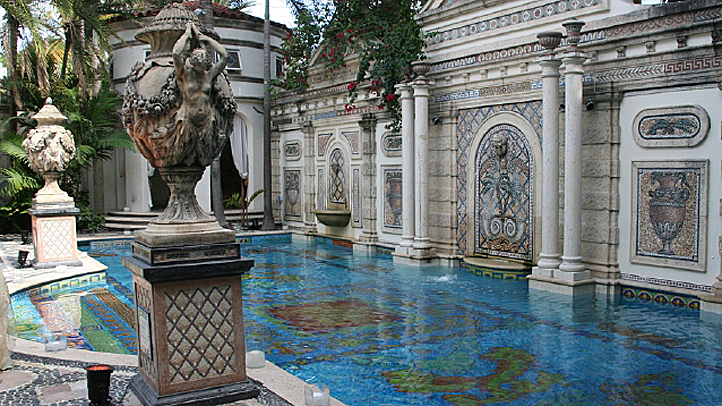 The South Beach mansion once owned by Italian designer Gianni Versace and the place he was fatally shot is headed for the auction block.
Fisher Auction Company is handling the sale, set for Sept. 17 at 10 a.m. on-site at the property. The 23,000 square-foot mansion was last listed at $75 million.
Originally built in 1930, the 10-bedroom, 11-bathroom, gated home features a 54-foot long mosaic pool lined with 24-karat gold. It also includes numerous frescos, ornate statues, arched doorways and an open air courtyard.
"We are very pleased to have the opportunity to manage the sale of this one-of-a-kind property," said Lamar Fisher, President and CEO of Fisher Auction Company, who said the sale should draw prospective buyers from around the world.
In 1997, the 50-year-old Versace was killed in front of the property by a man who later committed suicide. Versace had purchased the home in 1992 and spent about $33 million renovating and adding another wing. Tourists can still routinely be spotted taking photos in front of the house.
The property had been operating as a 10-room boutique hotel for several years but closed earlier this year. A bankruptcy court has appointed Fisher Auction Company to handle the sale, in conjunction with Coldwell Banker Residential Real Estate.
The property will be sold with all furnishings and artwork, Fisher said. And qualified bidders will be invited to the auction.
"You have to be a qualified bidder, and in order to qualify, you have to escrow $3 million by September 12 and show proof of funds of no less than $40 million," Fisher said.
The opening bid is at $25 million, Fisher said.
Versace had many famous friends including Princess Diana, Madonna, Elton John and Cher.
Copyright AP - Associated Press