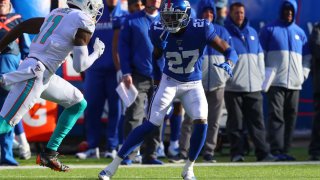 The New York Giants have waived cornerback DeAndre Baker with the 22-year-old facing armed robbery charges relating to an incident in Florida in May.
The Giants announced the move on Tuesday, less than a week after co-owner John Mara said the team was close to a decision on Baker's future with the club.
Baker has been on the commissioner's exempt list since July 27. Two weeks later, he was formally charged with four counts of robbery with a firearm stemming from an incident at a house party in Miramar, Florida.
Baker has not participated in any Giants activities since the alleged robbery.
Baker was the third of the Giants' three first-round draft picks in 2019. The 30th pick overall, the Georgia product played in all 16 games, starting the final 15. He finished with 61 tackles (48 solo) and eight passes defensed.
Baker was expected to be a starter in Joe Judge's first season as head coach.
New video and records released Tuesday by the Miramar Police Department have added yet another strange twist in an already high-profile robbery case. The nearly 200 page case file and video released are leading to new questions about possible witness tampering, though no charges have stemmed from it. 
In multiple recorded statements with police, some of the victims admitted that they were paid thousands of dollars to change their story about what happened during the robbery. 
In one of the interviews, one of the victims, whose name was redacted, says "I'm gonna tell you just like this, he gave Coach a big bag of money and told everybody that they needed to recant their stories, and they need to leave town."
The same victim goes on to tell police that he was given "5 grand" saying, "that was my money that they took, because they took—- they gave me 3 extra hundred 'cause I got forty-seven hundred taken that night."
While no one is facing any charges related to witness tampering, this new information does come almost one month after we learned that the charges against Seattle Seahawks defensive Back Quinton Dunbar were being dropped because of insufficient evidence.
The Broward State Attorney's Office found enough evidence to formally charge Baker. The 911 call was also released Tuesday and you can hear the caller mention Baker by name on the phone with the dispatcher.
 Caller: I just got robbed by an NFL player. 
 Dispatcher: Okay. Tell me exactly what happened. 
Caller: A guy was having a get together, sitting around having fun. And I dont know. They got   into some kind of confrontation and Dre Baker came around with a gun and him and his friend robbed me.
NBC 6 reached out to the Broward State Attorney's Office about the possible witness tampering and a spokesperson responded saying the case against Baker is still pending and it would be inappropriate to comment. 
There were also text messages included in the case file obtained during a search warrant that seem to implicate Dunbar as well. NBC 6 reached out to Attorney Michael Grieco, who was representing Dunbar, at the beginning of this case.
NBC 6 also reached out to the attorney representing the witness referred to as "Coach", who is mentioned in the case file as possibly being involved in the payoff. His attorney told us they are not commenting as well other than to say, "Things are not what they always appear to be."
Dunbar's current attorney, Andrew Rier, told us that he's seen some of the latest articles and does not see any new information. He said the charges against Mr. Dunbar were dropped and were dropped for insufficient evidence and he doesn't see anything new that would change that.
The Giants had two players involved in offseason incidents coming off a 4-12 season that led to the firing of coach Pat Shurmur. Kicker Aldrick Rosas, who made the Pro Bowl in 2018, was involved in a hit-and-run accident. He was released just before the start of training camp.
Mara had said Rosas had a previous arrest for driving under the influence. The co-owner said the team's background check of Baker before the draft showed no problems and the team was caught off guard by his actions.
New York opens the season on Monday night at MetLife Stadium against the Pittsburgh Steelers.
___
More AP NFL: https://apnews.com/NFL and https://twitter.com/AP_NFL
Copyright AP - Associated Press