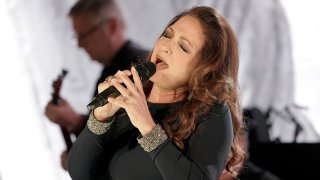 In an exclusive interview with Entertainment Tonight, Gloria Estefan revealed why she chose not to accept Jay Z's invitation to perform at the 2020 Pepsi Super Bowl Halftime show in Miami with headliners Jennifer Lopez and Shakira.
"What would be the need?" the Miami singer reportedly told Entertainment Tonight she responded to Jay Z. "You already have two amazing headliners. And I've been blessed to have already done it twice. It's good."
Estefan, who is now 62, performed at the Super Bowl halftime show in 1992 and again in 1999.
Jay Z is the organizer of this year's show, which will take place in Miami Gardens at the Hard Rock Stadium on February 2.
Entertainment Tonight reported that Jay Z called Estefan's husband, the American-Cuban producer and musician Emilio Estefan, to tell him he'd be in Miami for the Super Bowl and see if Gloria wanted to perform.
"Come on, those high-stress things? That's a high stress thing. I've done them. I've done two," Gloria responded. "I'm really thrilled for Shakira and J-Lo that are going to be burning up the stage, because those women are hot."