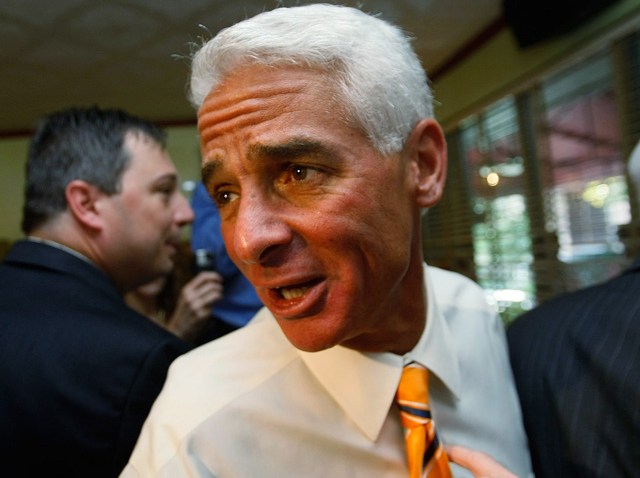 After nearly a week of teacher and student demonstrations in South Florida, Tallahassee and throughout the state, Florida Gov. Charlie Crist vetoed the controversial teacher merit-pay bill Thursday.
Crist announced the veto at an afternoon press conference where he called the bill "significantly flawed."

"Their voices were heard," Crist said of the teachers who inundated him with petitions all week long, holding rallies and even a large so-called "sick-out" Monday in Miami-Dade to protest Senate Bill 6. "This bill has deeply and negatively affected the morale of our teachers, our parents and our students."
Crist said he made the decision to veto the bill last night, after considering the accumulation of input he received the last week.
Crist, Republican candidate for U.S. Senate who is running far behind fellow GOPer Marco Rubio in polls, denied vetoing the bill was part of his plan to switch to Independent for the Senate bid.
"It has nothing to do with politics at all, it has everything to do with the children of Florida," Crist said during a news conference Thursday where he announced his decision. "I know in my heart it's the right thing to do."
Crist, who had earlier supported the bill, said it had been "rushed through."
The bill, which passed around 2:30 a.m. last Friday by a 64-55 vote, would have given teachers pay raises based on student performance on standardized tests. Bad evaluations could have cost teachers their certifications.
"The Governor has exercised foresight, leadership and wisdom in vetoing SB6. I applaud his decision," Broward County Public Schools Superintendent James F. Notter said in a statement. "It's clear that he pays attention to the voices of the thousands of teachers, administrators, parents, students and citizens across the state."

The House vote on the bill was essentially split on party lines, with all Democrats opposing it and all but 11 Republicans supporting.
Democrats wasted no time in giving Crist's decision their full support.
"On behalf of the Florida House Democratic Caucus, I commend Governor Charlie Crist for his veto of Senate Bill 6," said Florida House Democratic Leader Franklin Sands (D-Weston). "The students, teachers, parents and all Floridians have won a great victory, which was denied them by the Republican leaders in the Florida House and Senate."
"Nothing is more powerful than teachers, parents, and students standing together and speaking out against policies that degrade our teachers and diminish the quality of our children's education," said Rep Kendrick Meek (D-Miami).
"It goes without saying that I am disappointed this legislation has been vetoed by Gov. Crist, and I continue to think that one day it will be fully implemented in our state," said Sen. John Thrasher (R-Jacksonville), the bill's main sponosor.