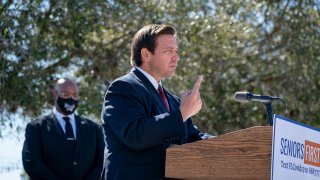 Florida Gov. Ron DeSantis is supporting legislation that he hopes will help improve the state's election integrity.
DeSantis discussed the legislation at an event Friday morning at Hilton Airport Palm Beach in West Palm Beach.
Download our app for iOS or Android to get the latest forecasts on the hurricane season— and sign up for alerts.
Among the issues DeSantis wants to curb are ballot harvesting and mass mailing of unsolicited ballots.
He said the state should instead continue to offer absentee ballots by request.
DeSantis said the state has already invested millions in integrity measures but said the state still needs to "stay ahead of the curve."
He also compared how Florida handled the 2020 election to how other states fared.
"The result of 2020 from an administrative perspective was that Florida had the most transparent and efficient election anywhere in the country," DeSantis said. "Other states took days, weeks and even months to count their votes.
DeSantis said by midnight on election day Florida had 99% of precincts reporting and around 11 million votes counted, tabulated and put out to the public.
"It can be done and don't let anyone tell you it cant be done," he said.
This is a developing story and will be updated. Please check back for more updates.