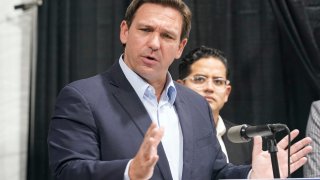 Florida Gov. Ron DeSantis is hoping a new proposal that includes $5,000 bonuses will help recruit law enforcement officers to the state.
DeSantis discussed his proposal at a news conference Tuesday morning at the Lakeland Police Department.
The key portion of the three-part proposal would give $5,000 signing bonuses to rookie officers or officers who transfer from another state.
"We see an opportunity given how morale is low throughout many parts of our country amongst people in law enforcement, we have an opportunity to capitalize on that here in the state of Florida, because we do need to fill positions," DeSantis said.
Stay informed about local news and weather during the hurricane season. Get the NBC 6 South Florida app for iOS or Android and pick your alerts.
The proposal would also remove roadblocks for officers to transfer to Florida law enforcement departments through programs that would provide free training and certification.
The third part of the proposal would feature scholarships to cover enrollment costs for law enforcement academies.