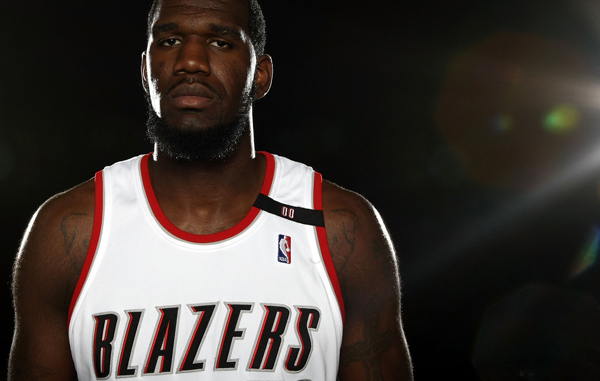 It's official: former first-overall draft pick Greg Oden is a member of the Miami Heat. The free agent center who has not played in an NBA game since 2009 passed his physical and signed a two-year deal with the defending champs on Wednesday.
"I am very excited and happy to be here," Oden said. "I'm thankful to the Miami Heat organization for bringing me in and I'm ready to get to work."
Oden's contract is for the veteran minimum, and will pay him $1 million in 2013-14 with a player option worth $1.1 million for 2014-15. Oden will be the third former top pick to suit up for the Heat, joining LeBron James and Shaquille O'Neal (both of whom, like Oden, were drafted by other teams).
Heat president Pat Riley said the team spent "many months" investigating Oden, both in on-court workouts and conversations between the Heat and Oden's team.
LeBron is Music Curator for NBA 2K14

"It's a great challenge for him," Riley said in a statement released through the team. "We know all about his past injuries, but we feel that there is a huge upside and the possibility of him helping us. We will continue his program and then we will tackle basketball issues after that."
The Heat were not the only team gunning for Oden, who received inquiries from at least six other teams. But the chance to join a championship squad whose coaching staff would ease him into action helped sway Oden to sign with the Heat.
"Obviously the chance to play with the best player in the world and compete for a championship was a big selling point," Oden told ESPN's Grantland after announcing he would sign with Miami last week. "But more than that, what I really liked was how they thought I could really add something to their team. They've won back-to-back championships without me, so for them to pursue me as hard as they did meant a lot, especially given all that I've gone through."
Miami Heat Dancers Hold Auditions at AmericanAirlines Arena

On December 5, 2009, Oden fractured his left kneecap while defending a shot, even though he made no contact with any other player on the play. He underwent surgery soon thereafter, ending his 2009-10 season.
His comeback from that injury stalled several times. Oden went through two microfracture surgeries, in 2010 and 2012. The Portland Trail Blazers, who drafted him ahead of scoring champion Kevin Durant in 2007, waived him in 2012, and Oden spent the last season out of basketball in rehabilitation.
Joining the Heat will allow him to slowly readjust to the NBA, as fellow centers Chris "Birdman" Andersen did last season and Eddy Curry did the year before that. But as Riley mentioned, having a healthy Oden on the squad could be a huge benefit by the time the playoffs start next April.
The Heat could have paid anyone $1 million to take the 14th spot on the roster next season. But having a former top draft pick do that could pay off immensely as the Heat aim for a three-peat in 2014.
Copyright AP - Associated Press