Travelers walked in ankle-high water after Haiti's main airport in Port-Au-Prince was flooded Tuesday afternoon.
Footage obtained by NBC 6 showed flood waters throughout Toussaint L'Ouverture International Airport, and it appeared the airport was still operating with the standing water covering the ground level.
[[421094833, C]]
Many people walked barefoot as they navigated through the flooded baggage claim area. Haitian airport officials have not said what caused the water to seep into the airport. The area surrounding the airport also experienced massive flooding.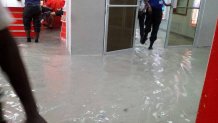 Satellite images indicate heavy storms hit the island nation Tuesday and more rain is expected in the area Wednesday afternoon. Haiti's neighboring country, Dominican Republic, has also experienced severe flooding in the past several days.
[[421096253, ]]