Parents love taking photos of their children and showing them off on social media.
The average parent posts around 1,500 photos of their child before his or her fifth birthday, according to the Child Rescue Coalition. The organization also says that by two years old, 90 percent of children have been featured in photos or videos online.
Many parents may not realize that using certain hashtags and internet acronyms can put your child at risk.
Carly Yoost, Child Rescue Coalition Founder and CEO, urges parents not to include hashtags, such as #bathtimephotos and #pottytrain, in social media posts that could make images publicly available and suggestive for dangerous predators to search.
The organization also encourages parents to be aware of internet acronyms that teenagers could be using to KPC (keep parents clueless).
Here's a list of more acronyms parents should keep an eye out for: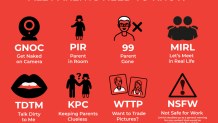 Click here for more information, hashtags and acronyms.