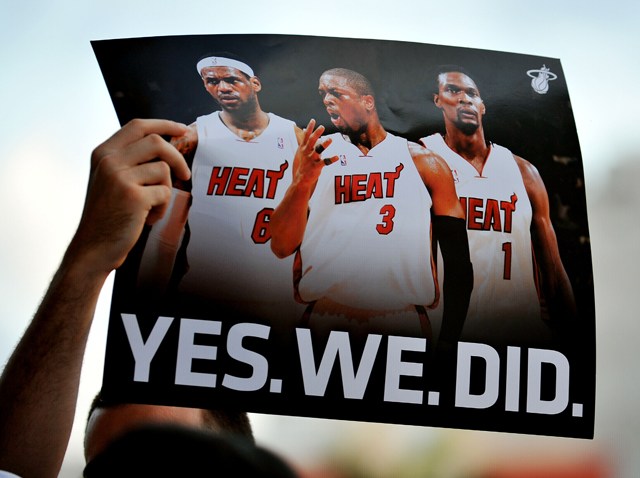 It will be one of the biggest parties in Miami's history and that's not a euphemism.
The city is planning to turn all of downtown into a massive block party for the Miami Heat on opening night, creating a hype to match the hype of Dwyane Wade, LeBron James and Chris Bosh on the basketball court.
The city is pumping mad money into the effort, which involves cleaning up the streets to have an NBA shine by the time the first home game rolls around Oct. 29.
"We are so excited about the heat season starting we are going to throw a big tailgate party on Biscayne Boulevard," said Alyce Robertson, executive director of the Downtown Development Authority. "We are working with the Heat organization to be able to project the whole game outside and get the dancers outside as well as the entertainment that's going on inside come outside to the street party."
That's right. The plan is to turn downtown Miami into a massive party.
Restaurants are being courted to line Biscayne Blvd. Big screens set outside so that everyone, not just the lucky ticket holders inside, can see the first home match up against in-state rival, the Orlando Magic.
But it's never too early to plan for a designated driver or a massive traffic nightmare.
Biscayne will be closed in front of the American Airlines Arena from N.E. 6th Street to N.E. 8th. It's estimated 11,000 people can stand in front of the arena, so they need room for more.
Organizers will likely use the amphitheater at Bayfront Park or Bicentennial Park to handle the overflow crowd.
There is a significant effort to fix up downtown for all the international visitors and locals.
"We are cleaning up and trying to fix the parking lots and to trying to get it all ready for the block party for the first game here in Miami," Mayor Tomas Regalado said.
And don't worry about the cost to the event. it's free but you will need a ticket to get in. We've got wind of the party so early, the Heat and the city still haven't figured out how fans can get to the tickets.
Don't worry. We will keep you posted.
Also check out miamidda.com and heat.com for updates.