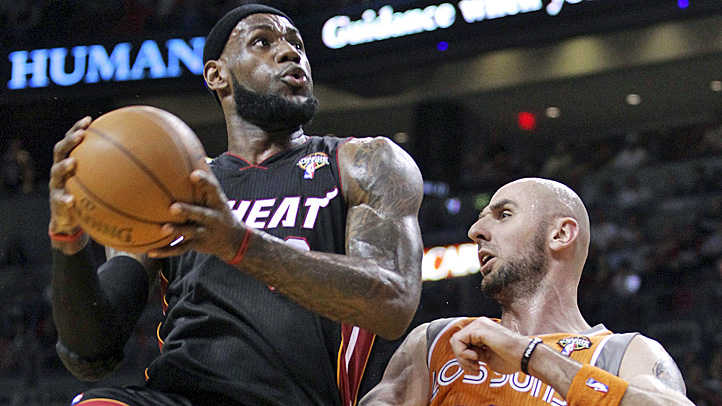 LeBron James gave Miami two big scares. The Phoenix Suns provided another.
The Heat survived them all.
Chris Bosh scored 29 points, and the Heat used a 17-0 fourth-quarter run to erase a 10-point deficit and beat the Suns 99-95 on Tuesday night for their 14th straight home victory.
James scored 20 points, shaking off a stinger on his right elbow in the first quarter — then a high-impact collision with Grant Hill in the final seconds, staying down for nearly 2 minutes before getting pulled to his feet.
He remained in the game. In the locker room afterward, James complained of a headache and seemed more soft-spoken than usual, though insisted he was fine.
"Never had one of those hits since I had on pads and a helmet," James said. "So it took me back to that moment. I don't know what exactly happened. ... I'm all right. I've been better. I've got a little headache. But I'll be all right."
James said he didn't believe he would need additional testing, such as exams to rule out a concussion. He also said he was not concerned about the elbow soreness, a problem that plagued him at times when he played for Cleveland as well.
"When I heard him saying what the score was, what the time was, I knew he was going to be OK," said Heat guard Dwyane Wade, who scored 11 of his 19 in the fourth. "I saw Grant get up before him, which was surprising."
Hill led Phoenix with 19 points. Marcin Gortat had 13, Markieff Morris 12, Jared Dudley 10 and Steve Nash finished with nine points and 10 assists.
James was chasing the ball and never saw Hill. Both players went down, and both said afterward they felt fortunate the play did not result in something more serious. James started to get up, got to one knee, then rolled over onto his back and grabbed his head with both hands before eventually making his way to the bench.
"I was trying to set a screen," Hill said. "I don't think he saw me and ran right into me. The old man got up and the young guy stood on the ground for a while. Luckily, he didn't get hurt. Luckily, neither one of us got hurt."
The Suns had the NBA's second-best record since Feb. 19, having won 11 of their last 14 coming in. Shannon Brown's 3-pointer with 7:29 left put Phoenix up 90-80, but the Suns missed their next 10 shots.
James, Wade and Haslem all made a pair of free throws to start Miami's late run, and the Heat tied it when Mario Chalmers stole the ball from Nash and set up Wade for a breakaway dunk.
Bosh made two more foul shots to put the Heat up for good, Wade made a layup while sprawling to the floor and stretched the lead to 95-90 after Suns coach Alvin Gentry was called for a technical, and James' jumper with 1:52 left capped the flurry. Miami made 13 of 16 free throws in the final quarter, while Phoenix was only 3 for 4.
The Suns missed four straight shots at the rim in one stretch, all in a span of 34 seconds, and the Heat started to roll.
"They made the plays down the stretch, but we also had an opportunity to make plays that we didn't complete," Gentry said.
Udonis Haslem added 15 for the Heat.
James had another hard fall in the early going. On a drive into the lane, James was hit by Morris and reached back with his right arm to brace himself for the fall. James appeared to hit his right elbow directly on the floor — he was wearing a pad on that one, though not the left — and stepped away from the foul line briefly while shaking the arm.
The Heat had another injury woe to deal with as well, with starting center Joel Anthony out of the lineup for the first time this season because of a sprained ankle. Dexter Pittman made his first career start in Anthony's place.
Heat coach Erik Spoelstra spent the better part of two days raving about the Suns' play of late, especially Nash. A sampling of the terms Spoelstra used to describe the Phoenix point guard: "maestro," ''timeless quarterback," ''relentless" and "tireless."
All were on display throughout.
Down by nine in the early going, Phoenix closed the first half on a 13-3 run, a spurt Nash started with a 3-pointer and one that sent the Suns in the locker room up 53-49 — even though Miami shot 58 percent in the first half.
Phoenix led by eight in the third quarter, holding Miami to 35 percent shooting, before the Heat rallied from a double-digit deficit for the third time in its last four home games.
"To finish the game, it was more our style, more aggressive in the second half — particularly in the fourth quarter," Spoelstra said.
Notes: Heat President Pat Riley celebrated his 67th birthday. ... Celebrity night: Ohio State football coach Urban Meyer was in the season-high crowd of 20,212, as were the tennis-golf power couple of Caroline Wozniacki (snapping a few photos with her phone) and Rory McIlroy, Miami Marlins standouts Giancarlo Stanton and Josh Johnson, NFL star Andre Johnson and comedian Jerry Seinfeld. ... Phoenix started a stretch where it will play 12 of 15 on the road, with three one-game "homestands" breaking up the various trips. ... Wade did not take a shot in the first quarter, only the ninth time in 583 regular-season games that happened. ... Nash shot 2 for 3 in the first quarter, raising his NBA-best percentage in the opening 12 minutes of games this season to 60.8.
Copyright AP - Associated Press