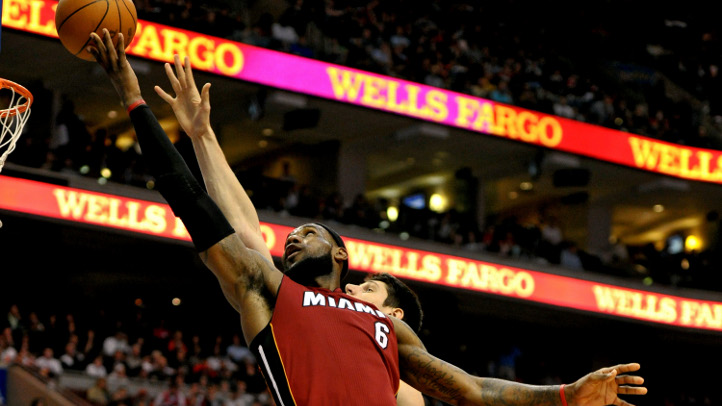 Two favorites to battle it out for the NBA title face off when the Miami Heat travel to Oklahoma City to take on the Thunder at 8 p.m. Sunday night.

The Heat (35-11) and Thunder (36-12) come in with the second and third best records in the league, respectively, both behind the Chicago Bulls (40-11).

The teams bring with them the two highest scoring duos in the league with Kevin Durant (2nd, 27.9 ppg) and Russell Westbrook (5th, 24.3 ppg) slightly tipping LeBron James (3rd, 27.0 ppg) and Dwyane Wade (6th, 22.9) for the top honor.

The Heat have won four straight but need to win just to keep the Bulls within their sights, while the Thunder have won two in a row and also have aspirations of finishing with the best record in the regular season to secure home court advantage throughout the playoffs.

Beside the top four stars, two other players might prove crucial in Sunday's match up and if the teams meet in the finals.

For the Heat, Chris Bosh, the third member of the vaunted Big Three, presents the only viable interior scoring option for either team.

Bosh is having another solid year, averaging 18.2 ppg and almost 8 rebounds while shooting 49 percent from the field.

His presence will be especially valuable considering the two pillars of Oklahoma City's defense, center Kendrick Perkins and power forward Serge Ibaka, who leads the league in blocked shots (3.3 pg), tend to clog up the middle of the floor.

While Bosh is Miami's dependable third scorer, James Harden serves that function coming off the bench for the Thunder.

Harden is having the best year of his career scoring 17.1 ppg and providing defensive energy and assists, playing predominantly with the team's second unit.

The teams split victories in last year's match ups with each winning on the other's home court.
Although the teams only play each other twice a year, there was considerable animosity built up between them last year when Durant called Bosh a "fake tough guy."
The teams meet for the second time this year in Miami on April 4.