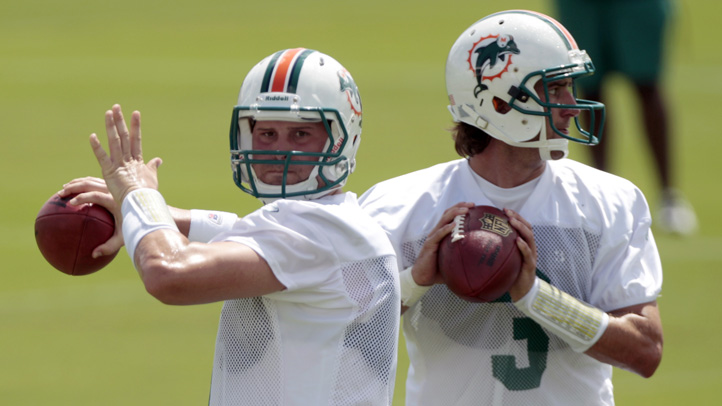 Last week was a rough one for Dolphins quarterback Chad Henne. At the start of the week he was showered with chants of "We want Orton" at the team's Monday night open scrimmage, and by week's end rumors were flying that Miami could make a play for the retired Brett Favre (but those were quickly shot down).

So he doubtless must have felt good after Sunday's team practice, which saw the beleaguered signal-caller connect with his mercurial receiver Brandon Marshall for three touchdowns against the Dolphin's first-team defense.

According to The Miami Herald, Henne completed 11 of 17 passes for roughly 134 yards Sunday, but it was his three touchdowns to Marshall that were the talk of the day.

For those of you keeping track at home, those three Henne-to-Marshall touchdowns were one more than the pair combined for in the entire 2010 season.

What was the difference between Sunday and last Monday, when fans booed nearly all of Henne's incompletions?

"The previous practices, we [Henne and Marshall] weren't on the same page," Henne told the Miami Herald. "We talked before practice, we communicated and we got it done."

Last season, when the two talked, it usually meant Marshall was yelling at his quarterback. But for the most part, he avoided Henne, especially as the season wore on and he received fewer and fewer throws his way in the end zone.

So it is at least a little reassuring that the two seem to have a more workable relationship thus far this season. Dolfans can only hope it can survive the inevitable bumps in the road that the season will surely bring.