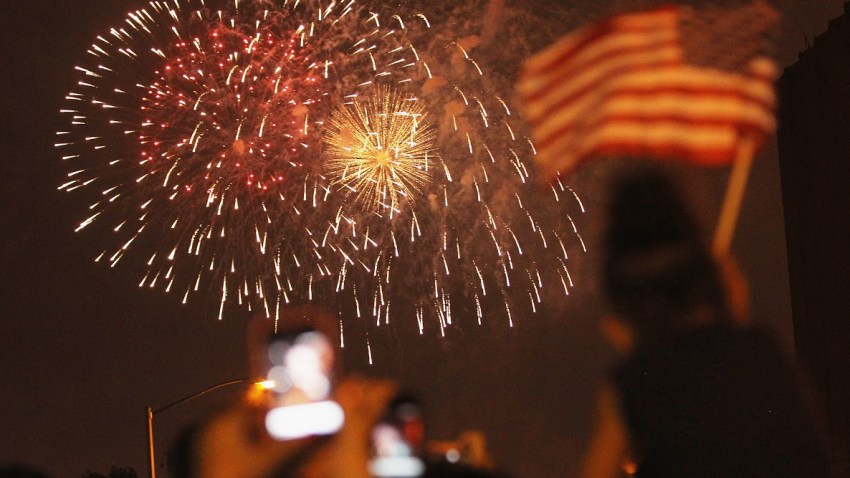 Fourth of July weekend has arrived! Here are some places where you can celebrate Independence Day.
Lauderdale By The Sea: Take a trip to Lauderdale by the Sea for a variety of events celebrating America's most patriotic holiday. At 10 a.m., the public is invited to an annual Fourth of July morning parade starting at the Bougainvilla Fire Station. From 11 a.m. to 3 p.m., there will be a "family fun day" in El Prado Park, featuring a water slide for the kids as well as fire truck demonstrations. A 20-minute firework show starts at 9 p.m. just north of El Prado Park.
Key Biscayne: Key Biscayne will be throwing a parade to celebrate America's birthday starting at 11 a.m. sharp. The parade will feature floats, marching bands, music and fireworks.
Bayfront Park, America's Birthday Bash: Bayfront Park will be holding "America's Birthday Bash" on July 4, featuring a free kids zone, beer garden, live music and fireworks. The kids zone opens at 3 p.m., and the Budweiser Beer Garden & Stage opens at 2 p.m. A thirty-minute fireworks show will begin at 9 p.m.
Fort Lauderdale: A free all-day event will take place on Las Olas Boulevard and A1A on July 4. Beach games, family activities, fireworks, live bands and more will be available for the public to enjoy. The event starts at 12:30 p.m. and the fireworks show -- which is simulcast with music from the radio station 101.5 -- will begin at 9 p.m.
Sunrise BB&T Center: Starting at 5 p.m., children's rides, inflatables and several food and beverage vendors will kick off the Independence Day celebration outside the BB&T Center. An hour later, Baha Men will take the stage, with The Romantics following that performance with their own at 7:30 p.m. Fireworks are scheduled for 9 p.m. Both parking and admission are free.
Flamingo Gardens Old Fashioned Fourth: The Fourth of July celebration at Flamingo Gardens is scheduled to start at 9:30 a.m. and will include contests, games and barbecue. Watermelon, pie eating and hula hoop contests will be featured. A full schedule can be found on the facility's website. Flamingo Gardens will charge an admission fee.
Hollywood Beach: Head over to Hollywood Beach for a "Star Spangled Spectacular Celebration" on July 4. The event starts at 2 p.m. and will include live music, games and a BBQ before offshore fireworks begin at 9 p.m.
Hialeah: Head to Milander Park starting at 5 p.m. for an event that will feature a kid's zone, music, dancing and a fireworks show that includes a video screen in sync with music, lasers and lights. Jen Carlos Canela will be performing.
Black Point Park and Marina: The park is set to host the annual Fourth of July Spectacular. Visitors can use the bike ways, jogging trails and dine at the Ocean Grill Restaurant leading up to the fireworks show that is scheduled to start at 9 p.m. Both the park and marina are open 24 hours.
Pines Recreation Center: The city of Pembroke Pines plans to celebrate with music and food starting at 6 p.m. Admission and parking are both free. Food and children's entertainment will be available leading up to the 9 p.m. fireworks show.
Pompano Beach: Pompano Beach's Fireworks Extravaganza will be held at the Fishing Pier beginning at 5:30 p.m. Several bands are scheduled to perform before the fireworks show, which is scheduled to begin at 9 p.m. Parking will be available at A1A and Atlantic Boulevard. The Pier Garage will also be open.
Miami Beach Fire on the Fourth Festival: Head to Miami Beach (73rd Street and Collins Avenue) to celebrate Independence Day starting at 11 a.m., when several food trucks will line the street. Spam AllStars, Inner Circle and The Wailers will perform before 9 p.m., when the fireworks show is scheduled to begin.
Coconut Grove: Spend your Fourth of July in Coconut Grove, which will host an old-fashioned picnic at 3485 Main Highway starting at 11 a.m. A hot dog eating competition will be held at 6 p.m. and the fireworks show at Peacock Park will begin at 9 p.m. Bike Coconut Grove is providing free bicycle valet.
Vista View Park's Red, White and View: Head to Vista View Park Tuesday night and climb to the top of a hill to see fireworks displays from several surrounding cities. Most fireworks shows in surrounding neighborhoods are scheduled to begin at 9 p.m. Fireworks are not launched from the park itself. The cost to enter the park is $1.50 per person until 7:30 p.m. and $2 per person any time after that.
Miramar: Eddie Santiago, Tavares, Kelly Price, France Joli and Wayne Wonder are all scheduled to perform at the grand opening of Miramar's Amphitheater. Food trucks and a kid's zone will be available leading up to the fireworks show at 9 p.m. Parking inside the regional park will only be offered to VIPs and those requesting handicap accessibility. Glades Middle School and Everglades High School will serve as off-site parking options. A shuttle to the facility will be available for $5 per vehicle.
Margate: Head to Margate for the Fourth of July parade starting at 9 a.m. A post-parade picnic and concert will precede the fireworks show scheduled for 9 p.m. at Margate Boulevard and 441.
Coral Springs: Bring the entire family to watch a grand fireworks display at Mullins Park in Coral Springs on Wednesday. The free event, which kicksoff at 6 p.m., features bounce houses, music, food, refreshments, and kid's craft activities with a nominal fee. The fireworks show will begin promptly at 9 p.m. There is a $3 parking fee at Mullins Park, Coral Springs Gymnasium and the Center for the Arts.