A driver was taken into custody after a high-speed police pursuit that started in Miami-Dade and went into Broward Wednesday morning.
Footage showed a black BMW sedan fleeing at high speeds through neighborhoods in northwest Miami-Dade before the driver entered Broward.
Eventually the driver stopped the car in a Miramar neighborhood and was surrounded by police officers, who took him into custody.
Footage showed officers approaching the man with weapons drawn as he crawled on the ground next to the car.
Stay informed about local news and weather. Get the NBC 6 South Florida app for iOS or Android and pick your alerts.
The footage also showed a resident with an up-close view of the arrest apparently taking pictures or video with her cellphone.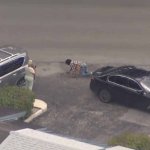 Police later identified the driver as 22-year-old Donald Felix Jr. It's unknown what charges he may face.
Police said the pursuit began when officers spotted the car, which matched the description of a vehicle that was involved in a shooting.
When officers tried to stop the car, the driver fled and the chase began.
Police said they're still trying to confirm that the vehicle was involved in a shooting.
Check back with NBC 6 for updates.