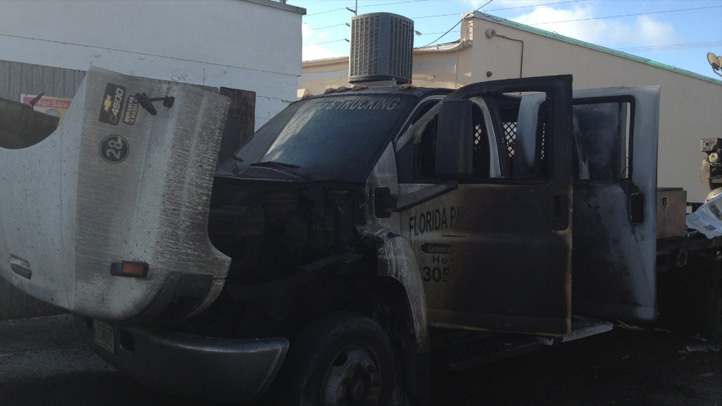 A man who authorities believe set a truck on fire in the Florida Keys, severely injuring a Homestead man who was sleeping inside, has been arrested Friday.
Jose Gonzales, 52, was airlifted to Miami's Ryder Trauma Center in critical condition for treatment for severe burns following the incident that happened outside the Dog House bar in Marathon, the Monroe County Sheriff's Office said.
VIDEO: Squirrel Eats Car in Florida

Authorities said a person from the bar called the sheriff's office around 3:43 a.m. Friday to report that a truck was on fire. Deputies and firefighters arrived and found Gonzales, who had been injured in the fire.

Gonzales, who works for Florida Paving and Truck Incorporated, had been sleeping or resting inside the cab of his work truck when someone apparently lit it on fire by tipping over a gas can and lighting it on fire, the sheriff's office said.
Authorities later said they were looking for 28-year-old Stuart James Collins, who they believe set the fire. Collins was taken into custody without incident, authorities said.
Great White Shark Spotted Off Key West

There were several explosions reported as the truck burned, authorities said. On the truck was a generator and a tank of diesel fuel.

Investigators with the sheriff's office major crime unit and fire marshall's office are working together on the case.
More Local Stories: