A slain FBI agent was remembered for her strength, infectious laugh, love of family and commitment to protecting children during a memorial service Saturday.
Agents Laura Schwartzenberger, 43, and Daniel Alfin, 36, were gunned down Tuesday while serving a search warrant at the Sunrise home of a child pornography suspect. The service for Schwartzenberger was held at the Hard Rock Stadium. A separate service for Alfin will be held there Sunday.
"There are no good words to make sense of a loss like this, no good words for a day like Tuesday, or like today," said FBI Director Christopher Wray. "There's a heaviness in our hearts and a burden unlike any other, because there is nothing more devastating to the FBI family than the loss of an agent in the line of duty."
Schwartzenberger's casket was draped with an American flag as it was brought out to the field as bagpipers played. The flag was later folded into a triangle and presented to her family by Wray. She was given a 21-gun salute during the service.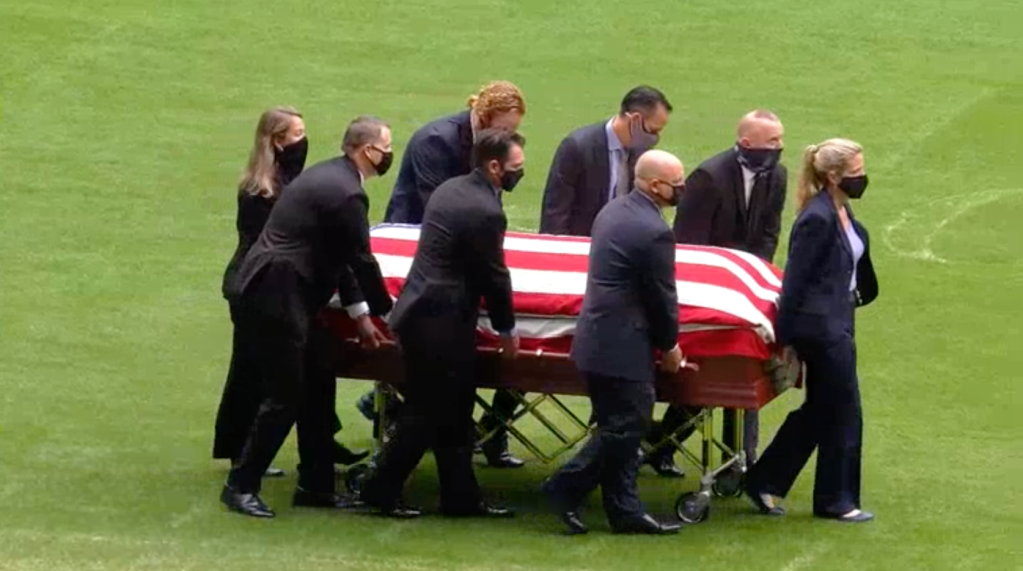 "Laura chose to be part of a team that spends their days in darkness confronting the very worst parts of humanity. It's a job with high stress, high emotional toll and high burnout," Wray said of the agent, who was originally from Pueblo, Colorado. "Laura never stopped. She'd talk to anybody and everybody about protecting children from predators online."
"We're saying goodbye to a beloved member of the FBI family taken much too soon," Wray said. "But, we are so fortunate that Laura chose us." 
FBI officials said Schwartzenberger and Alfin had both dedicated their careers to working crimes against children cases.
Schwartzenberger, 43, was an agent for 15 years and was part of a Miami-Dade middle school's law studies magnet program, teaching children about the internet's dangers, including sexual exploitation and cyberbullying.
Schwartzenberger started her career in New Mexico before coming to the Miami Field Office in 2010. She leaves behind a husband and two children.
The shootings marked one of the bloodiest days in FBI history in South Florida and among the deadliest nationally as well, according to the FBI website. Suspect David Huber, 55, killed himself before he could be arrested.
Mourners gathered Friday night to remember Schwartzenberger in Coral Springs, spending their time crying and remembering her life lost.
As tributes pour in, so did the support. The foundation Tunnels to Towers, which helps the families of first responders killed in the line of duty, is one of those groups pledging their support to the families.
"We will pay off their mortgages and take that financial burden off their plate," said John Huvane, the group's national law enforcement liaison and a retired NYPD detective. "These children will not have to move based on loss of income or loss of a parent."
Download our local news and weather app for iOS or Android — and choose the alerts you want.
The 36-year-old Alfin joined the FBI in 2006 and began in the Albany, New York office before coming to Miami in 2017. He leaves behind a wife and one child. Alfin gained international attention when he led a team that shutdown a major worldwide child pornography website several years ago.
Florida Gov. Ron DeSantis on Friday directed that flags be flown at half-staff on Saturday at the Broward County Courthouse in Fort Lauderdale, Parkland City Hall, and at the State Capitol in Tallahassee in honor of Schwartzenberger.
He directed flags to be flown at half-staff on Sunday at the courthouse, Weston City Hall, and the State Capitol in honor of Alfin.
AP and NBC 6