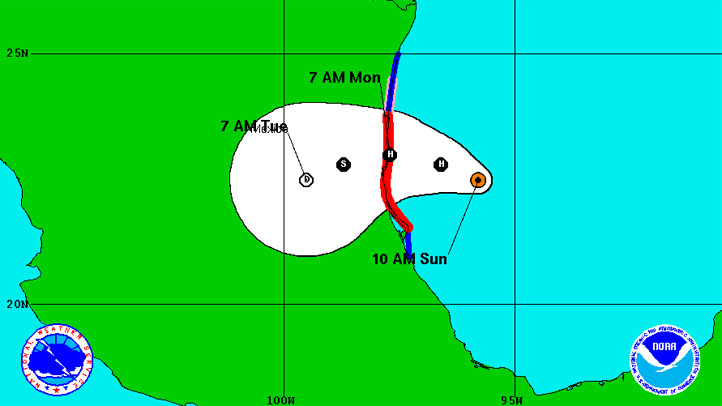 Hurricane Ingrid's outer rain bands were approaching the coast of Mexico Sunday evening, according to the National Hurricane Center in Miami.
As of 5 p.m., Ingrid had maximum sustained winds of 75 mph as it moved west-northwest at 6 mph, about 110 miles east-northeast of Tampico, Mexico and about 120 miles southeast of La Pesca, Mexico, the NHC said.
A hurricane warning is in effect for Cabo Rojo to La Pesca and a hurricane watch is in effect for north of La Pesca to Bahia Algodones. A tropical storm warning is in effect for north of La Pesca to Rio San Fernando and south of Cabo Rojo to Tuxpan.
The NHC advises that hurricane preparations be made immediately in the hurricane warning area.
Ingrid is expected to turn west later Sunday or Monday and possibly strengthen before reaching the coast of Mexico, the NHC said.
The storm is expected to produce 10-15 inches of rain over a large part of eastern Mexico with isolated amounts around 25 inches possible. The rains could result in life-threatening flash floods and mudslides.
A dangerous storm surge will raise water levels by as much as 3 to 5 feet above normal tide levels along the immediate coast near and to the immediate north of where the center of Ingrid makes landfall.
Hurricane conditions are expected to reach the warning area by early Monday with tropical storm conditions expected Sunday night, the NHC said. Weakening will begin once Ingrid moves over land.
More Weather Content: