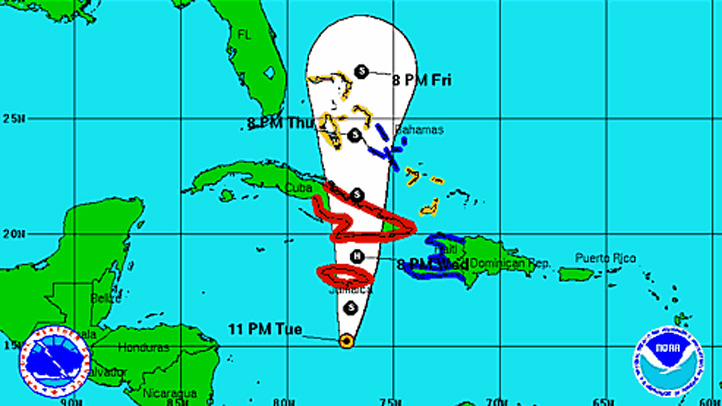 Florida's emergency officials warned that Tropical Storm Sandy could bring rip currents to the state's east coast this week and into the weekend.

As of 11 p.m., the storm had strengthened and had maximum sustained winds of 60 mph as it moved north-northeast at 10 mph about 195 miles south of Kingston, Jamaica.
Meantime, Tropical Storm Tony formed Tuesday night. As of 11 p.m., it had maximum sustained winds of 40 mph as it moved northeast at 12 mph about 1,505 miles west-southwest of the Azores, the National Hurricane Center said.
There were no coastal watches or warnings in effect, and Tony was expected to turn to the east-northeast and increase its speed on Wednesday.
Besides Jamaica, a hurricane warning was in effect for Sandy for the Cuban provinces of Camaguey, Las Tunas, Granma, Santiago de Cuba, Holguin and Guantanamo.
A tropical storm warning was in effect for Haiti and the central Bahamas, and a tropical storm watch was in effect for the southeastern and northwestern Bahamas.
Sandy is expected to strengthen into a hurricane by the time it nears Jamaica on Wednesday, the National Hurricane Center said. Tropical storm force winds extend outward up to 105 miles from the center of Sandy.
While Florida is not expected to be directly impacted by the storm, South Florida and the Atlantic coast could face a higher risk of rip currents, and get 1-3 inches of rain and winds up to 35 mph, according to the Florida Division of Emergency Management.
"All Floridians should remain aware of the storm and the possible indirect impacts for their area, and take appropriate precautions to keep themselves and their loved ones safe," the division's director, Bryan Koon, said in a statement.