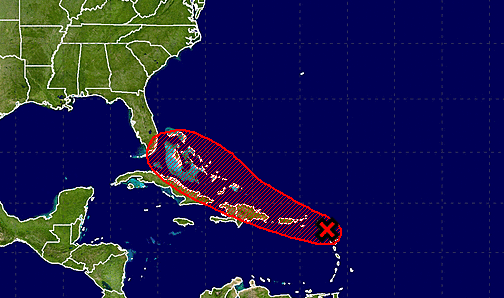 The National Hurricane Center increased the likelihood that a tropical depression or storm will emerge from a tropical wave in the Atlantic within the next two to five days Tuesday night.
The system is current being called "Invest 99L", with the letter "L" used as a designation given to storms in the Atlantic that have not reached the level where they are given a name.
Aircraft reconnaissance had flown inside the system earlier in the day and could not find a low level circulation. Once the plane left, however, a trend could be observed on satellite imagery that the disturbance was trying to consolidate around a perhaps new center of spin located further to the south.
Whereas previously any possible circulation had been placed around 17 degrees north latitude, this new spin is centered near 16°N or perhaps even 15.5°N. This shift of 70 to 100 miles to the south could have significant short and long term implications.
First, for the Leeward and Virgin Islands, what might have been a brush-by could now mean stronger squalls Tuesday night and Wednesday. For Puerto Rico, the Dominican Republic and Haiti, it could mean a tropical depression or even a weak tropical storm moving near or over them later Wednesday into Thursday.
This is no hurricane, it's had a lot of dry air mixed into its circulation, and it's moving pretty quickly. Therefore it appears far from becoming an unusually wet event. But the Antilles are notorious for fast developing flash floods, and a Flash Flood Watch is in effect for the U.S. Virgin Islands and Puerto Rico.
A "green alert" (the first level of warning) has been implemented for the Dominican Republic too. A southern track is what the GFS model has been hinting at for the last day and a half, or so, with the idea that a depression or weak storm would hit Puerto Rico and/or the Dominican Republic and then fall apart due to land interaction, leaving only a weak tropical wave for Cuba, the Florida Keys, and then into the Gulf of Mexico.
Models that had suggested that this system would stay north of the Antilles had it strengthening into a significant hurricane over the Bahamas and then, most of them including the European ECMWF, would bring the cyclone to the east coast of Florida this weekend.
The suite of models has been, well, conflicted, for lack of a better word. This happens when the models are trying to recognize the existence of and forecast for a tropical disturbance of some kind that's too shallow and disorganized to be properly assimilated.
So, while the consolidation of a circulation and possible imminent development of a depression or storm may be bad news for parts of the Caribbean, it may be good news down the road for Florida.