Palm Beach County's sheriff made an impassioned plea Friday, saying the killings of a woman and her young grandson inside a Royal Palm Beach Publix could have been prevented.
In a news conference, Sheriff Ric Bradshaw said the man who shot and killed the woman and toddler posted on social media in the past about wanting to kill people and children.
"This tragedy fits the profile across the United States," Bradshaw said. "Somebody knew about it, that bad things were gonna happen with this guy, and two, obviously there's some mental unstableness going on with this."
Stay informed about local news and weather during the hurricane season. Get the NBC 6 South Florida app for iOS or Android and pick your alerts.
The shooting happened before noon Thursday in the produce area of the store, located at 1180 Royal Palm Beach Boulevard.
At around 11:36 a.m., officers arrived to find the 69-year-old woman, 1-year-old toddler and the gunman dead inside the store.
Just minutes before, at 11:31, the gunman entered the produce section where the victims were, took out his gun, and shot the child, sheriff's officials said.
The grandmother interfered, and the man's gun jammed, officials said. After a struggle, the man shot the woman and then himself.
Family members invoked Marsy's Law, and law enforcement will not be releasing the names of the woman and the child, who was supposed to turn 2 next month.
The store remained closed Friday and only employees were allowed inside. It will reopen Saturday morning.
"The tragedy that occurred at our store yesterday, for the community and for our Publix family and the victims, our hearts are with the victim's family," Publix Communications Director Maria Brous said Friday.
Authorities identified Timothy J. Wall, 55, as the gunman. There is no known motive or relationship between Wall and the victims, the Palm Beach Sheriff's Office said.
Speaking through Zoom, Bradshaw emphasized Friday that the gunman's red flags were present and the woman and child's deaths could have been prevented if someone had spoken up about the gunman's pattern of behavior.
"The real sad part is, other than the fact that two people are dead, is there was a chance this could have been stopped," Bradshaw said in Friday's news conference. "You know why? He's on Facebook. He has said, 'I wanna kill people and children.' He has friends, obviously they saw that. His ex-wife said he's been acting strange. He thinks he's being followed, he's paranoid. You think a damn soul told us about that? No."
The sheriff cited the "red flag" law, which allows law enforcement to seize guns from people deemed mentally unstable. Twenty states currently have red flag laws, including Florida.
"If it sounds like I'm angry, I am. Because if somebody had got us involved and called us on the phone and said, hey, this may not be anything, but this may be something because his person is talking about bad things," Bradshaw said.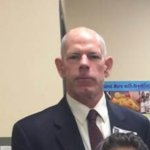 The owner of a labor company which employed Wall at the time he filed for unemployment in January said he knew of no complaints or anything "unusual" before he quit just three weeks later.
Wall was married for just over 15 years before divorcing his ex-wife in February 2019. The two have a 14-year-old daughter.
Witnesses said they heard three gunshots and then started running for the store's exits.
"Everyone started coming out yelling 'Active shooter! Shots fired! Get out! Get out!' and I saw about 50 customers and staff leave I would say in about 10 or 15 seconds," witness Ron Glassman said.
Publix employee Gus Downs said he initially thought it was balloons popping.
"I just heard three loud pops and next thing I knew they were chasing everyone out of the store," Downs said.