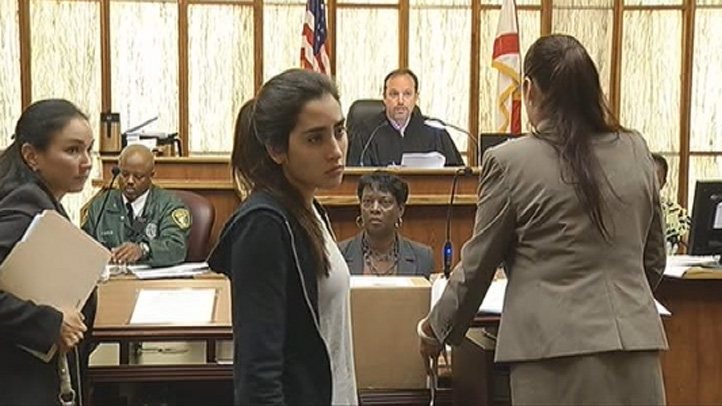 The former University of Miami student convicted in the crash that killed an elderly woman in Coral Gables turned herself in to begin serving her three-year sentence Wednesday.

Ivanna Villanueva was supposed to turn herself in Tuesday but the court found amphetamines in her system during the routine drug test. On Wednesday, her attorney brought evidence that those drugs were prescribed by a doctor and not illegal and she was able to turn herself in.

Villanueva, 21, was sentenced last month in the October 2011 wreck that left 68-year-old grandmother Eyder Ayala dead. Miami-Dade Police said Ayala was heading home from her job at McDonald's when Villanueva struck her vehicle.
Alcohol Results Released in Fatal Coral Gables Crash

Ayala was pronounced dead on the scene near Lejuene Road and Majorca Avenue. Toxicology reports found Villanueva, then only 19, had a blood alcohol levels almost three times the state legal limit of .08. She was charged with DUI manslaughter and vehicular homicide.

Under the terms of her plea deal, Villanueva will be on probation for 15 years after serving her sentence. Villanueva will also have to donate to the anti-DUI foundation Mothers Against Drunk Driving, give to a scholarship in Ayala's name, and speak to young people several times a year about the perils of driving under the influence.

In court Wednesday, the victim's family said they are still distraught with their loss.
New Charges in Fatal Coral Gables Crash

"We just miss our grandmother very much," said Bernadette Sadeek, Ayala's granddaughter. "It's a sad day for both families and our road to recovery continues for both families."

"It doesn't change a bit the fact that my mother's not here, it doesn't bring her back in any way shape or form," said Ayala's daughter, Brenda Vasquez. "So it's a sad day no matter what."