Yayoi Kusama's magical glowing pumpkins have arrived in South Florida just in time for Halloween, and you have until the end of January to go see them.
The Japanese contemporary artist's exhibition 'All the Eternal Love I Have for the Pumpkins' will be on display at the Institute of Contemporary Art in the Miami Design District until January 31. Tickets will be available Fridays, Saturdays and Sundays for $15, and a limited amount will be given away free every Thursday on a first come, first serve basis.
The exhibit features an array of Kusama's signature spotted pumpkins within a mirror-lined room illuminated with LED lighting, designed to be experienced for exactly one minute by museum-goers.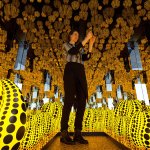 The reflective chamber is designed to make viewers feel as though they are a part of Kusama's art. Cell phones and small personal cameras are allowed inside.
Kusama's 'Infinity Mirror Rooms' have been some of her most iconic works since they debuted in 1965. 'All the Eternal Love I Have for the Pumpkins' made its first appearance in London at the Victoria Miro Gallery in 2016.