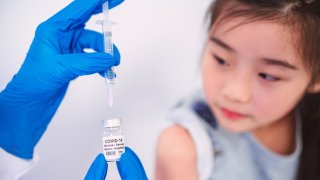 Joe DiMaggio Children's Hospital will begin offering COVID-19 vaccine appointments for children aged 5-11 on Monday.
The hospital will open appointments on Monday, Nov. 15, and begin administering on Tuesday, Nov. 16.
Appointments will only be available on Tuesdays and Thursdays from 3 p.m. to 7 p.m.
To schedule an appointment, parents can register their child via Memorial's MyChart or call 954-276-5500.
The news from Joe DiMaggio Children's Hospital comes after the Center for Disease Control gave final clearance to COVID-19 shots for kids aged 5-11 on Nov. 2.