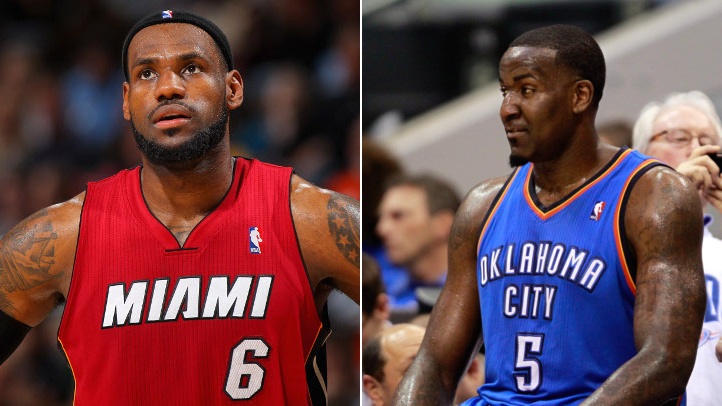 Kendrick Perkins is mad at LeBron James. After the LA Clippers' Blake Griffin dunked over him in one of the most eye-popping dunks of the season last month, James had the nerve to tweet about it.
Seriously, LeBron James has become so divisive that even a harmless tweet can send one of his critics off the rails.
Upon seeing Griffin's dunk, James tweeted, "Dunk of the Year! @blakegriffin just dunked on Kendrick Perkins so hard!!! Wow! I guess I'm No. 2 now. Move over #6." The day before, James caught an alley-oop pass from Dwyane Wade, dunking over the Chicago Bulls' John Lucas.
That did not sit well with Perkins.
He told Yahoo! Sports Tuesday night
, "You don't see Kobe [Bryant] tweeting, you don't see Michael Jordan tweeting. If you're an elite player, plays like that don't excite you."
Perkins is dead wrong. The only person who is not excited by that dunk is one without a pulse. And why shouldn't James marvel at it?
"At the end of the day, the guys who are playing for the right reasons who are trying to win championships are not worrying about one play."
Perhaps Perkins never heard James' prediction that the Heat would win 6 plus titles with he, Dwyane Wade and Chris Bosh at the helm.
"They also are not tweeting about themselves talking about going down to No. 2. I just feel [James] is always looking for attention and he wants the world to like him."
There's one big problem with Perkins' theory: his own team captain Kevin Durant tweets almost 10 times as much as James (
Durant has over 20,000 tweets
to his name;
James, 2,300
). Durant has become the NBA's anti-LeBron: a humble young superstar who mostly avoids the spotlight. Perhaps Durant will let his teammate know that there's nothing wrong with tweeting about an awesome dunk.
Problem #2:
According to IamaGM.com
, James was one of dozens of players who tweeted about the dunk. And James' wasn't even the worst tweet! Al Thornton tweeted, "Perkins career is over with!!!"
But no one would care if Perkins picked a fight with Thornton. Who's looking for attention now?