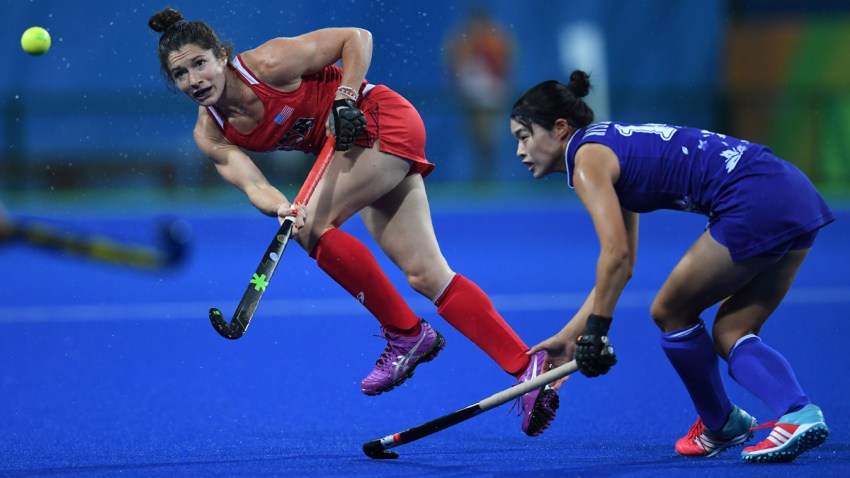 Big day in Rio for two U.S. Gymnasts, and a big day in the pool for U.S. Golden duo, Katie Ledecky and Michael Phelps.
DON'T MISS THE ACTION: For a complete rundown of all the day's events in Rio, visit the streaming schedule page for NBCOlympics.com. Watch every event of the 2016 Rio Olympic Games live there, on the NBC Sports App and connected set-top boxes. You can also catch the highlights in primetime on NBC.
Here are our 6 to Watch on Day 6:
LEDECKY, PHELPS LOOK TO CONTINUE GOLD RUSH
Michael Phelps and Ryan Lochte will race against each other for the final time in the 200-meter individual medley Thursday, ending a 13-year rivalry that has been one of the greatest in swimming history. They are the top two all-time performers in the event.
UPDATE: Ledecky Breaks Olympic Record
BILES, RAISMAN SOAR TO 1-2 FINISH

After leading her team to gold in the all-around team event Tuesday, Simone Biles has an individual gold medal to call her own as she took first place in the women's final. Teammate Aly Raisman won the silver.
Despite her demanding training schedule Biles still finds time to Tweet Zac Efron. Does he Tweet back? Click here to find out.
MEN'S VOLLEYBALL FACE HOST BRAZIL
The crowd will be against them when the U.S. men's volleyball team takes on host Brazil men's volleyball tournament. The team will be looking to rebound after a stunning opening match upset against Canada and close loss against Italy on Tuesday.
"It was an unfortunate way to start the tournament," USA captain David Lee said following the Canada loss. "We didn't find a level of consistency that we could sustain throughout the match."
The U.S. Is in last place in Pool A, and needs to find success in their next two matches to advance to the quarterfinals.
How to Watch: Catch the event live online at 9:30pm ET.
AFTER INJURY, JUDOKU AIMS FOR SECOND GOLD
Kayla Harrison became the first American to defend an Olympic judo title when she forced France's Audrey Tcheumeo to tap out in the final of 78-kg competition Thursday.
FIELD HOCKEY LOOKS TO BUILD ON WINS
Team USA's women's field hockey team looks to maintain momentum after two surprising wins against Argentina and Australia. Next up is India in Pool B of the women's field hockey tournament.
"It's not the underdog, it's not whatever, it's just us, united as strong and resilient and gritty," Michelle Vittese said.
How to Watch: Catch the event live online at 6:30 pm ET.
Update: WATER POLO CONTINUES QUEST FOR BACK-TO-BACK GOLDS
The U.S. women's water polo team, the reigning Olympic champions, beat China 12-4 Thursday after a decisive win over Spain on Tuesday.
The team is attempting to become the first women's water polo team in Olympic history to win back-to-back gold medals. If the matches against Spain and China were any indication, the team remains focused on that objective.