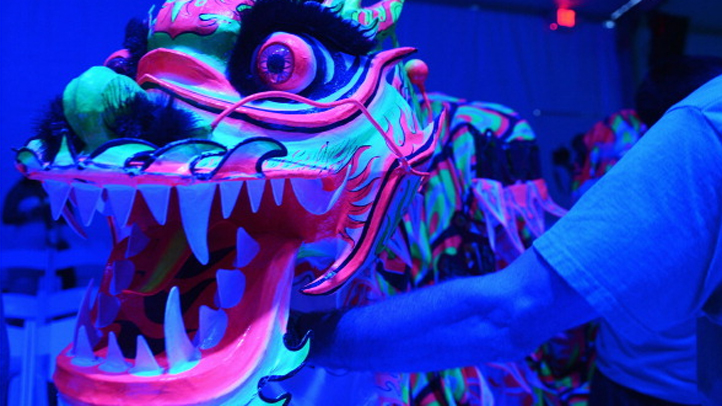 Lisa Blue channeled the Year of the Dragon for the line's 2013 swimsuit collection _ literally.
The line _ which gives 25 percent of its profits towards protecting whales and dolphins _ kicked off the Mercedes Benz Fashion Week Swim 2013 at the Raleigh Hotel in South Beach on Thursday night. Designers from all over the world are showing during the five days of shows.
Australia-based designer Lisa Burke showed many different themes, including Grecian-inspired suits, cowgirl looks, 1950s pin-up styles and flamenco ruffles. There was lots of blue, gold, black, and flower prints in sexy bikini cuts and one-pieces with beaded dragon designs and prints.
Photos: First day of swim shows in South Beach
"When I was in Bali meditating and I kept getting dragon images. So, I started to think about ways to put dragons on the swimwear. Then I thought 'Oh my God,' imagine if it was the Year of the Dragon,'" she said.
So, she looked it up and found out that it was indeed the Year of the Dragon.
But Burke designs her swimsuits for the modern woman.
"This year there are many themes in the show, which comes from my idea that a woman of today no longer needs to stick to one conservative identity. She can be a princess or a rock star or just a beach babe," Burke said.
A model strutted down the runway in a white one-piece swimsuit had draped sleeves, while another wore a blue and gold bikini, also with draped sleeves. There was a white retro bikini with high-waisted bottoms and a halter top.
One model wore a gold headpiece and another wore a black one with feathers. Another model sported a blue cutout one-piece, which was paired with gold high heels. There was a also ranch look with a model wearing a blue baby doll dress with a leather lasso necklace and brown cowboy boots and hat. There was also a low cut floral one-piece paired with long thin necklaces and a pink halter one-piece with a retro print.
Karina Smirnoff danced down the runway and was followed by two flamenco dancers. Meanwhile, Brooke Burke and her husband David Charvet watched from the sidelines.
"I like the collection that opened the show," said Brooke Burke. "I also like the pinup."
Click here for Lisa Blue's website.