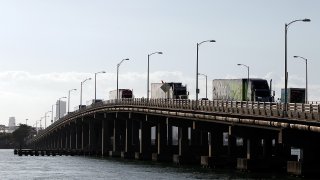 The MacArthur Causeway reopened to both eastbound and westbound traffic after a heated incident between drivers involving fireworks, Miami Beach police said.
Two vehicles were stopped and there have been no injuries reported, police say.
Download our app for iOS or Android to get the latest forecasts on the hurricane season— and sign up for alerts.
A report from Miami Beach Police said members of both cars were screaming at each other and throwing items at each other, when one driver says he dropped fireworks on the ground that may have sounded like gunfire.
No arrests were made.
Both east and westbound traffic was shut down Sunday night when a shooting was reported, but was later deemed to be not true.