A man is facing charges after police said he exposed himself to a 16-year-old girl at a Pembroke Pines bus stop.
Luis Enrique Rodriguez, 25, is facing a charge of exposure of sexual organs, Pembroke Pines Police officials said Wednesday.
The alleged incident happened just before 8:30 a.m. Tuesday at a bus stop in the 10500 block of Johnson Street.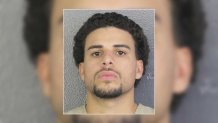 Police said the teen was sitting at the bus stop when a car pulled up and Rodriguez got out and began exposing himself to the girl.
The girl used her phone to record Rodriguez, who returned to his car and fled the scene, police said.
The teen was able to give police a detailed description of the suspect and his vehicle, and detectives were able to track him down, officials said.
Rodriguez was arrested at his home in Plantation early Wednesday and he was booked into jail. Attorney information wasn't available.
Police said they're glad an arrest was made in the case but they are concerned that there might be other victims out there.
"This individual who is responsible for this crime preyed upon a child, preyed upon someone who was most vulnerable," Pembroke Pines Police Capt. Adam Feiner said. "Our police department knew the importance of getting this offender off the street and preventing this from happening again."
Police said anyone who may have been the victim of a crime involving the license plate DQNA04 should contact them.