A 16-year-old Lauderhill girl said she was sexually assaulted on her way home from school and police said they've arrested her attacker.
According to the arrest report, Jermaine Henderson drove a white pickup truck into the path of the teenager as she was walking along Northwest 39th Avenue around 4 p.m. on April 11.
Henderson, 39, got out and struck up a conversation, complimenting her clothing. Then he threatened her with a box cutter, police said.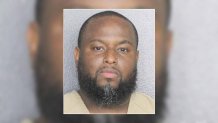 With the box cutter against her neck, Henderson forced her inside the cab of the 2008 Ford F-250 and sexually assaulted her twice, the report stated.
After he drove off, she went home and called police. They interviewed her then took her to a sexual assault treatment center.
Detectives said they obtained surveillance video from a neighborhood home and were able to trace the temporary paper license plate to the registered owner who knew Henderson.
Once police identified Henderson, the teenage girl picked his photograph out of a lineup to confirm it.
"Typically cases that we see here, the suspect is known to the victim in some way shape or form, whether they live in the area or they know them through family members," Lauderhill Police Maj. Michael Santiago said. "In this particular case there are no known connections. The suspect does not live in the city of Lauderhill, the victim does but the suspect doesn't so these are things that are very concerning for us."
Henderson was arrested Tuesday and is being held without bond in the Broward County Jail on charges that include sexual assault with a weapon and battery on a victim over 12 years of age, records show.
Erika Sloat wasn't home at the time Henderson allegedly pulled into her driveway in his truck to commit the assault.
"My heart mostly broke because I wish I would have been home, and I would have been able to intervene," Sloat said.
Detectives believe Henderson may have targeted other victims based on the manner in which he conducted himself, how he preyed on the victim and the ease in which he coaxed her, police said.
"This was such a brazen act, it was in the middle of the day, you had people around and his demeanor was very calm and very collected and based on the words that he used and how he was able to convince this female to just approach him and make her feel so comfortable, detectives believe there may be other victims around," Santiago said.
If there are any other victims who may have encountered Henderson, they are urged to contact their local police departments.