A Miami-Dade firefighter is in "serious but stable" condition after he fell down an elevator shaft at a Bal Harbour department store Tuesday morning.
Fire rescue crews responded to the scene at the Neiman Marcus store located in the 9700 block of Collins Avenue just before 8 a.m., after a call came in of a person stuck in an elevator.
Officials said one of the firefighters suffered a "long fall" at the scene.
The firefighter was taken to a nearby helicopter and airlifted as a trauma alert to a local hospital, where he was undergoing surgery. He was later identified as David Gonzalez.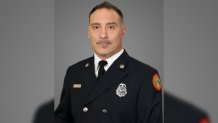 "This is a very difficult time for his family as well as his colleagues and all of us here in the fire department and we thank everyone for their concern and support," Miami-Dade Fire Rescue spokesperson Erika Benitez said.
After several hours in the operating room, Gonzalez came out of surgery.
"We do know he in serious but stable condition, and we do know this is going to be a long road to recovery," Benitez said.
Stay tuned to NBC 6 on air and online for updates