A man armed with two knives was shot and killed by a Miami-Dade Police officer during a confrontation at an apartment building Wednesday night, officials said.
Miami-Dade Police officials said the incident happened just after 8 p.m. at an apartment complex in the 8000 block of Southwest 149th Avenue.
Officers responded to the complex after receiving 911 calls of a violent disturbance and a woman screaming inside an apartment.
"We received two 911 calls where the person was stating that there was some type of violent dispute occurring inside that apartment, hearing a female screaming," Miami-Dade Det. Alvaro Zabaleta said.
Stay informed about local news and weather during the hurricane season. Get the NBC 6 South Florida app for iOS or Android and pick your alerts.
Officers attempted to make contact with residents inside the unit before they breached the door, officials said.
Once inside, officers found 21-year-old Richard Hollis armed with two knives and identified the woman involved as Hollis' mother. Police attempted to deescalate the situation before an officer was forced to open fire, officials said.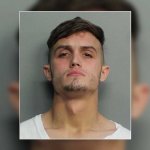 Hollis was taken to Kendall Regional Trauma Center, where he was later pronounced dead. His mother was not injured.
"Once they made entry inside, that's when they observed a male that was armed with two knives, they immediately were able to shield the female who had been confirmed to be the mother, to shield her and put her out of harm's way, while they tried to deescalate the situation with the subject," Zabaleta said. "He did not comply with the officer's commands and the officer discharged his firearm, striking the subject."
Neighbors said it wasn't the first time police had intervened in a confrontation between Hollis and his mother.
"They had their scuffles, but nothing out of this world. He seemed to be a little bit of a troubled kid," neighbor Stan Roque said.
Court records showed a previous legal battle over domestic violence between Hollis and his mother. One neighbor said Hollis was bi-polar and suffered from paranoia.
The Florida Department of Law Enforcement has taken over the investigation into the shooting.