A man is under arrest and a homicide investigation is underway after a woman was found murdered inside a Margate home Saturday, police said. 
The incident occurred around 7:00 p.m. at 5510 Lakeside Drive.
When police arrived on the scene, they found 69-year-old Laurie Bellshim dead inside the apartment. 
Police said the suspect, identified as 48-year-old Evan Rosenthal murdered the victim inside the residence, where he was caught and taken into custody. 
Rosenthal is now facing a murder charge and is currently at the Broward County Jail.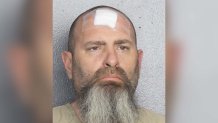 "They rushed in, put tape all over the place and nobody could get in," neighbor Tony Bartley said. "They just locked the place down, like 15 police cars. It was crazy."
One neighbor said he has lived in the complex for twenty years and has never seen anything like this.
"I'm surprised it happened here, in this complex," neighbor Robert Ward said. "There's a lot of security here. It's pretty shocking."
Police said they believe Bellshim and Rosnthal did know each other but were not in a relationship.
Rosenthal listed the apartment where the homicide took place as his residential address as recently as 2018.
Detectives encourage anyone who witnessed this incident or who may have information about the incident to contact Det. Michael Berryman at 954-972-7111.
This is a developing story. Please check NBC 6 for updates.