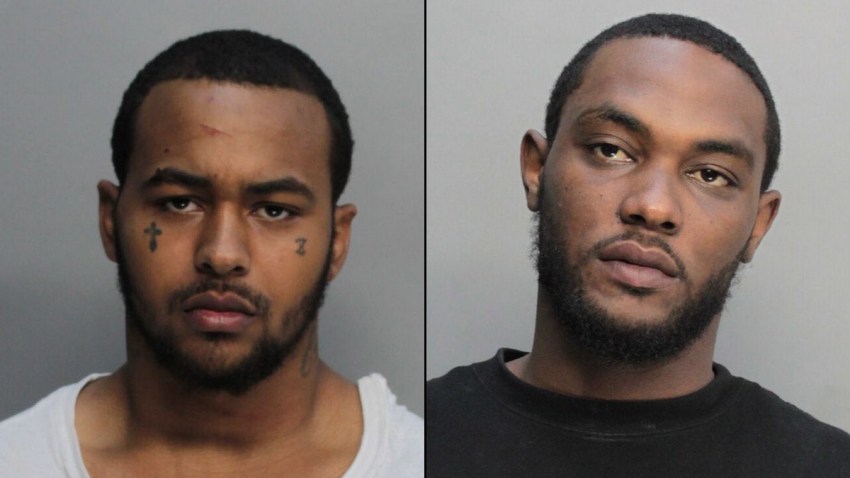 Two men were behind bars Thursday after police said they attacked a driver with a baseball bat after a crash in Miami-Dade.
Rovantai Payne, 20, and Brian Boyd, 19, are facing charges including burglary with aggravated battery and criminal mischief, Miami-Dade Police said. Payne was also charged with resisting an officer without violence, while Boyd was charged with battery on a law enforcement officer and threats to a public servant.
Boyd and Payne were being held without bond Thursday, jail records showed. It was unknown if they have attorneys.
Police said the incident happened just after 5 a.m. in the area of Southwest 112th Street and U.S. 1 when 55-year-old Roger Flores' truck was hit from behind by a car driven by Boyd with Payne as his passenger.
Boyd came up to Flores' truck and started pounding on the window and told Flores to drive away, according to an arrest affidavit. When Flores refused, Boyd jumped into the bed of his truck and smashed the back window, the affidavit said.
Boyd crawled inside the truck and started choking and punching Flores, the affidavit said. As that was happening, Payne grabbed a baseball bat and started hitting the truck, smashing the windshield and passenger window, the affidavit said.
At one point, Payne got in the truck and started hitting Flores in the chest and stomach with the bat. Flores later told officers he was about to lose consciousness when he saw police lights approaching.
When the officers arrived, Payne and Boyd were in the bed of the truck. Both jumped out but Payne started hitting the truck with the bat in front of the officers, the affidavit said.
After they were arrested, Boyd struck an officer twice with hid forearm and kicked out the rear window of a police cruiser, causing $1,300 in damage, the affidavit said.
Boyd was irate after he was taken to the police station, throwing chairs and struggling with officers, the affidavit said. "When I catch y'all in the streets without your gun and badge I'm going to f--- each one of y'all up," Boyd said, according to the affidavit.