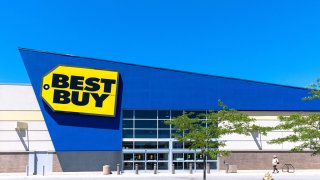 Sheriff's deputies on Florida's Treasure Coast say a man went into a Best Buy store and "coughed, sneezed, and spit" after being asked to put a mask on.
NBC affiliate WPTV-TV reports 51-year-old Alton Ashby went into a Vero Beach location on Saturday and was asked by an employee to put a mask on. Indian River Sheriff's Office officials say Ashby dumped a package of masks on the floor and refused to leave.
Download our app for iOS or Android to get the latest forecasts on the hurricane season— and sign up for alerts.
Authorities say Ashby began to sneeze, cough and spit on surfaces around the store before spraying a soda around the front of the store and walking out.
Ashby told deputies he was "upset" and was "going through a lot this year and got carried away at the store."
Ashby was charged with one count of disorderly conduct and released on $500 bond.