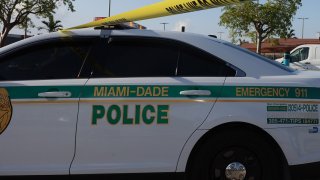 Police are investigating a shooting in southwest Miami-Dade that ended with a man dying at an area hospital Monday morning.
Miami-Dade Police said officers responded to the area of Southwest 122nd Avenue and 219th Street after receiving a Shot Spotter alert from the area, but did not find any victims.
A short time later, a man arrived at Homestead Baptist Health Hospital from the scene with a gunshot wound. He later died at the hospital, but police have not released his identity.
Investigators have not released additional information. Anyone with information is asked to call Miami-Dade Crime Stoppers at 305-471-TIPS.