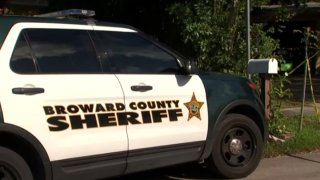 Broward Sheriff's Office deputies are investigating a shooting Sunday outside a Dania Beach home that left a man dead.
Deputies responded to the scene in the area of Southwest 13th Street and Southwest 2nd Avenue just after 7 p.m. where they found a man suffering from a gunshot wound.
Download our app for iOS or Android to get the latest forecasts on the hurricane season— and sign up for alerts.
Broward Sheriff Fire Rescue transported the victim to a nearby hospital where he later died.
He was later identified as 24-year-old Joshua Ward.
BSO officials said the incident began with a verbal and physical fight between Ward and another man outside the home.
The BSO SWAT team responded and searched for the suspect with the help of a K-9.
The suspect is still being sought and the shooting remains under investigation.