A man is facing an arson charge in connection with a fire at Oakland Park City Hall over the weekend.
Broward Sheriff's Office officials said deputies took 37-year-old Elvis Thomas Ford into custody Monday. He was booked into jail on a second-degree arson charge.
The fire was reported around 7:30 p.m. Saturday. The owner of a nearby restaurant said he put out the flames with a fire extinguisher.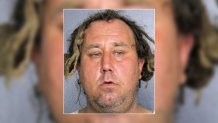 "I thought maybe someone fainted, or passed out, so I went over there to see what was going on thinking it was a medical emergency, and that's when I saw everything was on fire," said Patrick Little, owner of The Butcher's Barrel.
Authorities said the suspect lit a piece of paper and placed it inside a plastic box attached to the building. The fire melted the box and damaged the building near the entrance.
Get South Florida local news, weather forecasts and entertainment stories to your inbox. Sign up for NBC South Florida newsletters.
Surveillance cameras captured the entire incident, authorities said.
Ford remained behind bars Monday without bond. Attorney information wasn't available.
"Considering what we've experienced as a nation in the last year, it's been unprecedented. We're all a bit on edge and to find out the institution in which we serve has been attacked or something occurred that looks like an attack of some sort is unnerving," Oakland Park Mayor Jane Bolin said.