A South Florida man was arrested at Dolphin Mall Tuesday after he touched a 14-year-old girl's buttocks, police said. Kevin Sean McDonald, 31, was caught by mall security in the parking lot when he ran after groping the victim.
Sweetwater Police responded to the mall around 4 p.m. after a call was made about a possible child abduction. When they arrived, the 31-year-old was seen running toward the bus stops north of Bass Pro Shops. That's when officers apprehended McDonald and they later discovered that the suspect grabbed the teen's backside, police said.
The 31-year-old faces simple battery charges.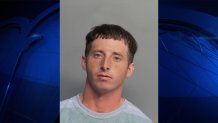 This is not McDonald's first run-in with the law. In 2014, he was arrested by Davie Police after he showed up at a Starbucks to meet with who he thought was a 14-year-old girl he met on Facebook. Detectives posed as the girl after the teen's father discovered McDonald chatting online with his daughter.
Davie Police said McDonald sent lewd photos to the girl's Facebook account. He was charged with child porn among other charges, but was never convicted because a judge ruled, in 2016, McDonald incompetent due to an intellectual disability and mental illness.
The 31-year-old has been allowed conditional release since 2014 and recently allowed to get community-based treatment in Fort Lauderdale.