Police are investigating an early morning shooting that left a father of three dead outside of a Fort Lauderdale home Friday.
Fort Lauderdale Police Det. Ali Adamson said the shooting took place just before 5 a.m. outside the home near the 600 block of Northwest 10th Terrace.
Officers and fire rescue crews responded to the scene and found the man's body. He was later identified as 34-year-old Brett Shell.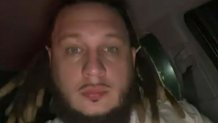 Ron Shell told NBC 6 his son, a resident of Pompano Beach, had three children, including an 11-year-old and two under age 5.
Investigators said Shell was leaving a friend's home and was walking through a parking lot to his car when he was shot.
Police said officers responded after receiving an alert from ShotSpotter, a gunshot detection system. No other injuries were reported.
Shell's father said he believed his son was targeted because Shell was known to carry large amounts of cash and may have been at the home for a gambling operation.
Anyone with information is asked to call Broward Crime Stoppers at 954-493-TIPS.