A pedestrian who was struck by a hit-and-run driver in Miami Beach Thursday night has died, and now police are searching for that driver.
The hit-and-run happened on Fifth Street and Michigan Avenue, police said. Police said the pedestrian, a man in his 50s, was struck and left in the middle of the road.
The driver had the right of way with the light at the intersection being green at the time, but police said regardless of that, it's still a hit-and-run investigation.
The driver fled westbound on the MacArthur Causeway in the vehicle, a white Kia Sorrento that officials said was a rental. Police said the car was found abandoned in Opa-locka Friday.
"The man crossing the street was by himself. Thankfully though we have witnesses who remained on the scene, provided detectives with not only testimony but also with video of the investigation which is how we've been able to make so much progress in such a short amount of time," Miami Beach Police spokesman Ernesto Rodriguez said.
The pedestrian was transported to Jackson Memorial Hospital in critical condition Thursday night. He died from his injuries Friday morning, police confirmed. His identity hasn't been released.
Get South Florida local news, weather forecasts and entertainment stories to your inbox. Sign up for NBC South Florida newsletters.
Police released footage of the pedestrian shortly before he was struck, as well as a blurry photo of the vehicle.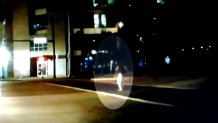 No other information was immediately known.
Check back with NBC 6 for updates.