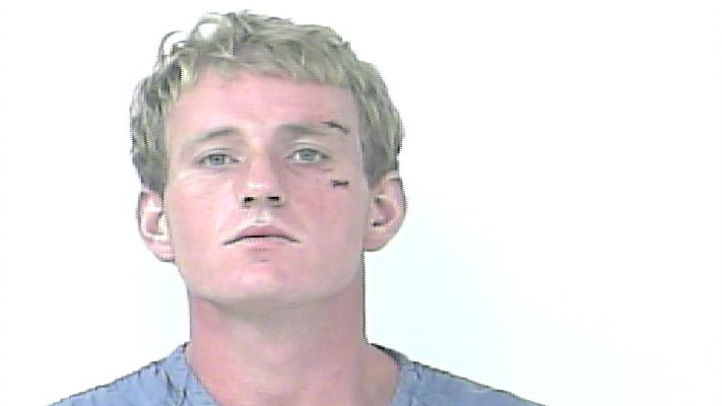 A South Florida man is being held on $15,000 bond after biting off a chunk of a friend's ear and trying to preserve it in coffee creamer, officials said.
The altercation began when 26-year-old Kenneth Thompson came back to the Port St. Lucie house where he lives with his female roommate, according to an arrest affidavit.
The unidentified roommate told officials that Thompson came home drunk at 5:30 p.m. Sunday while she was home with a male friend, the release said. Thompson started smoking in the house, and when she asked him to stop, he started screaming at her and the friend, saying he had gone through her phone and knew about the restraining order she was going to file against him, officials said.
He then began shouting that he was going to shoot himself in the head and began punching the unidentified male friend, the release said. The scuffle made its way outside the house, while the roommate left in fear that Thompson would retaliate against her for calling police, according to officials.
South Florida Business Owner Accused of Trying to Have Family Killed
While outside, Thompson pushed the male friend onto two garbage bags, jumped on top of him and bit off a chunk of his ear, the release said.
Thompson later told officials it was only a "small piece" of ear, the release said. He also said that he went back inside and placed the chunk in a cup of coffee that was in the fridge because it had creamer in it, and he had heard that when someone loses a tooth, it should be placed in creamer, police said.
He said he attacked the other man, who he said was his best friend, because the man was "trying to get into [the roommate's] pants," the release said. He said the roommate was his girlfriend, but she had told investigators that Thompson acted like the two were married, but they weren't even dating.
Investigators recovered a shotgun, a crossbow and a machete from Thompson's room during the investigation, the release said.
Thompson was charged with aggravated battery, a third degree felony.
More Weird Stories: