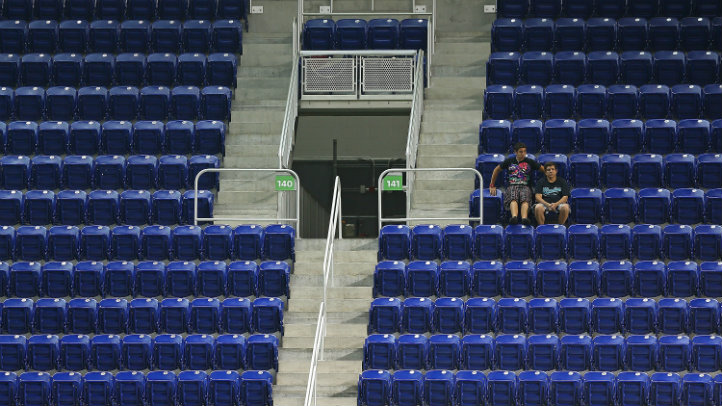 Building a state-of-the-art baseball stadium in Little Havana was supposed to help the Miami Marlins solve their long-standing problem drawing fans to home games. But two-thirds of the way through the 2013 season, the team's attendance numbers are almost identical to those from their last season at Sun Life Stadium.
Through 55 home games this season the Marlins are averaging 17,977 fans. According to the Miami Herald, that is only 109 more fans per game through the same number of games in 2011. The Marlins drew 19,007 fans per game through the entirety of the 2011 season, according to ESPN.com.
What's worse, the Marlins averaged 27,400 fans per game in 2012, the inaugural season at Marlins Park. But since the team drastically underperformed midway through that season, attendance has been plummeting.
Making matters worse were the series of trades executed by the team in 2012 with the intent to drastically reduce payroll. That only accelerated the decline in attendance, causing the team to close off the upper bowl of the stadium for weekday home games.
"Usually you have a honeymoon effect," sports-science professor J.C. Bradbury told the Herald Thursday. "It's hard to have that when the fans are predisposed not to like you."
Indeed, Marlins owner Jeffrey Loria is one of the most disliked men in South Florida. Fans have petitioned the Obama administration to force him to sell the team, with many giving up on the Marlins entirely until Loria is gone.
"I obviously still feel tremendously sorry about what happened last year," Marlins president David Samson told the Herald. "The goal we have with our fans every day is to get them to the point when they say, 'I remember when — I remember when I was so unhappy with the team. But now, it's a love affair.'"
The Marlins have begun to put together a promising young core, with All-Stars Jose Fernandez and Giancarlo Stanton at the center. But until Miami can begin competing for a playoff spot (the Marlins are 42-65, with the third-worst record in baseball and second-worst run differential), the fans will continue to ignore them.