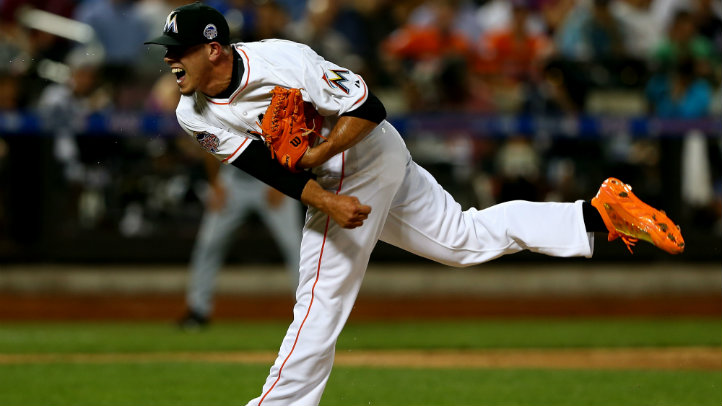 Jose Fernandez only got one inning to show the All Stars of baseball what he can do, and he made the most of it.
The Miami Marlins' rookie pitcher became the first Marlins rookie to appear in an All-Star Game Tuesday night, and he retired the side in the top of the sixth inning. The National League would go on to lose the game 3-0, but Fernandez got three big outs to keep it close for the NL All Stars.
Facing three of the American League's best, Fernandez notched two strikeouts (against former MVP Dustin Pedroia and current home run leader Chris Davis) and got former Marlin (and 2012 MVP) Miguel Cabrera to pop out in foul territory.
"Dangerous group of hitters there," Fernandez tweeted after his appearance. "I felt like I was going to throw 110."
Indeed, his fastball topped out at 98 miles per hour, as 9 of his 13 pitches were strikes.
Fernandez joined an elite club with his performance. Only Bob Feller and Dwight Gooden have struck out two batters in the All-Star Game as 20-year-olds. When ESPN's Jayson Stark brought that to his attention, Fernandez tweeted, "It's an honor to be mentioned with those guys."
Only two other pitchers have made All-Star appearances at Fernandez' age: Fernando Valenzuela and Jerry Walker.
The Marlins rookie was originally supposed to start the season at double-A, but injuries to starters Nate Eovaldi and Henderson Alvarez in spring training forced the Marlins to take a chance early on the young right-hander.
He is 11th in the majors with a 2.75 ERA, and his 8.86 strikeouts per 9 innings is also among the best in the big leagues.
The best may be yet to come for Fernandez, who escaped Cuba with his mother only five years ago (on their fourth attempt to leave the country). Some see Cy Young awards in Fernandez' future, and he showed Tuesday night why that is not a wild notion.